Breakdown of "Surrounding City" at FSU
By Major
| | |
| --- | --- |
| Accounting | B- |
| Anthropology | A- |
| Architecture | B |
| Art & Design Department | B+ |
| Athletics/Training | A+ |
| Biology | B- |
| Business - Management and Administration | B+ |
| Chemical Engineering | B |
| Chemistry | B- |
| Civil Engineering | B+ |
| Communications | B- |
| Computer Engineering | B- |
| Computer Science | C+ |
| Criminal | B |
| Cultures/Civilization | C- |
| Economics | C+ |
| Education | B- |
| Electrical Engineering | C |
| Engineering Department | B+ |
| English | B |
| Finance | A- |
| Geography and Geosciences | C |
| Language - French/Spanish/etc. | C+ |
| Math | C- |
| Mechanical Engineering | A- |
| Meteorology | A |
| Music - Performance | B |
| Nursing | C |
| Nutrition | C- |
| Other | B |
| Perfomance Arts | C |
| Philosophy | B |
| Physics | D+ |
| Political Science | B- |
| PreLaw and Legal | C+ |
| PreMed and Medical | D |
| Psychology | B- |
| School of Information | C+ |
| Social Work | B- |
| Sociology | C |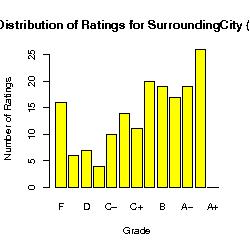 Against similar schools
Surrounding City compared with similar schools in class.
Surrounding City
"
I think your college years and experiences are as good as you make of them. I know this sounds really trite but it's true. I was very involved in extr...
Read full comment
"
Oh my god, what can I say about this school? First of all, every class is very disorganized. There is no way in hell to facilitate good communication ...
Read full comment
"
+I'd say that overall Florida State University has plenty of resources for those who know how to use it, and 'work it.' I liked it here so much ...
Read full comment
"
OK, let me be frank with you. There is really no way to go into college, graduate from college, and know what you're going to be doing professionally...
Read full comment