The Ringling College of Art and Design
Breakdown of "Collaboration/Competitive" at RAD
By Major
| | |
| --- | --- |
| Art & Design Department | B- |
| Design Arts - Industrial Design/Graphic Design/etc | A- |
| Fine Arts - Painting/Sculpture/Photography/etc | B- |
| Interior Design | A+ |
| Other | B- |
| Video/Media | F |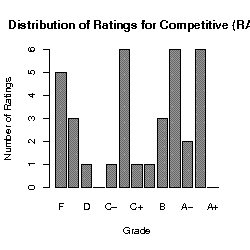 Against similar schools
Collaboration/Competitive compared with similar schools in class.
Collaboration/Competitive
"
I am a freshman graduate from Ringling and I can honestly say these negative reviews have had me laughing for quite some time. Yes, Ringling does o...
Read full comment
"
Don't look at the other people's comments, most are unable to cope with the popularity types and are stuck in a dungeon with no windows. Alot of kids ...
Read full comment
"
Ringling is not an "average" college experience. If you are looking for wild weekends, crazy parties or lots of free time, look elsewhere! The focus a...
Read full comment
"
I attended PreCollege at Ringling and ultimately decided not to apply there for college. Although I found the education quality great and the professo...
Read full comment
"
I transfered to this school from a community college and I have to say it was an excellent choice. A lot of students here are from other states beside...
Read full comment
"
i'm a first year CA student from out of state and although Ringling looks and seems really great from what they show you and tell you there are a few ...
Read full comment
"
I was looking forward to going to Ringling. I was willing to spend $40,000 a year just for tuition because of how Great a school it was suppose to be....
Read full comment