Georgia Southern University
Breakdown of "Collaboration/Competitive" at GSU
By Major
| | |
| --- | --- |
| Accounting | A- |
| Art & Design Department | C |
| Biology | C+ |
| Business - Management and Administration | B |
| Chemistry | B- |
| Communications | A |
| Criminal | B+ |
| Design Arts - Industrial Design/Graphic Design/etc | B- |
| Economics | A |
| Education | A- |
| Electrical Engineering | C |
| English | B+ |
| History/Histories (art history/etc.) | A- |
| Kinesiology | B |
| Math | B+ |
| Mechanical Engineering | B+ |
| Music - Composition/Theory | B+ |
| Music Education | A- |
| Nursing | C+ |
| Other | B- |
| Perfomance Arts | B+ |
| Philosophy | B- |
| PreLaw and Legal | F |
| Psychology | B- |
| School of Information | B |
| Sociology | C+ |
| Telecommunications | B |
| Undecided | B |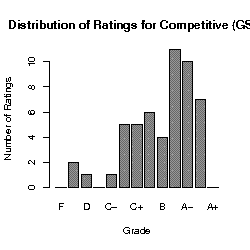 Against similar schools
Collaboration/Competitive compared with similar schools in class.
Collaboration/Competitive
"
Sure the Surrounding city sucks but GSU is wonderful. I don't think I could go to any other college; especially UGA. The student body is a lot frien...
Read full comment
"
Georgia State is an awesome school if you're coming here to learn. There are clubs and programs, but because the school is still mostly a commuter sc...
Read full comment
"
Because of the recent increase in enrollment and competitiveness of the highly desired University of Georgia, Georgia Southern University as well as o...
Read full comment
"
I am in love with Georgia Southern. The campus is absolutely beautiful and the dorms are the best in Georgia. The professors are always extremely help...
Read full comment
"
well personally my experience at georgia southern has been filled with up and downs. As a Minority at the school alot of the time i felt as if i was o...
Read full comment
"
GSU is a great school. It definitely has a reputation as a party school, but what college doesn't? The faculty is great for the most part. Some are...
Read full comment
"
This place is my home. I always thought of myself as a person happier close to a bigger city, and that's still true, but at Southern, many of the ...
Read full comment