The Savannah College of Art and Design
Breakdown of "Collaboration/Competitive" at SCAD/SAD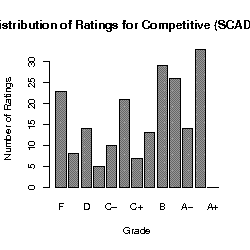 Against similar schools
Collaboration/Competitive compared with similar schools in class.
Collaboration/Competitive
"
... " This attitude creates a lax environment for friendly competition between classmates, and in turn prevents student's from pushing their creative...
Read full comment
"
... And I haven't done sports since high school, but some of the most hardworking students here are the ones balancing training and competitions on t...
Read full comment
"
... The few talented students here are immensely talented, but there is not enough competition here to keep you thoroughly engaged whatsoever ...
Read full comment