Breakdown of "Scholastic Success" at ISU
By Major
| | |
| --- | --- |
| Accounting | A |
| Aerospace Engineering | B- |
| Agriculture/Horticulture | B+ |
| Animal Studies | A |
| Archaeology | A+ |
| Architecture | A- |
| Art & Design Department | C- |
| Biology | B |
| Business - Management and Administration | C+ |
| Chemical Engineering | C- |
| Civil Engineering | A |
| Communications | C |
| Computer Engineering | B- |
| Computer Science | A- |
| Criminal | A- |
| Design Arts - Industrial Design/Graphic Design/etc | C- |
| Economics | B |
| Electrical Engineering | A- |
| Engineering Department | B- |
| Finance | A- |
| Genetics | F |
| Geography and Geosciences | A- |
| History/Histories (art history/etc.) | A |
| Journalism | A |
| Kinesiology | B+ |
| Language - French/Spanish/etc. | A- |
| Math | C+ |
| Mechanical Engineering | A |
| Meteorology | A |
| Nursing | C- |
| Nutrition | B |
| Other | B+ |
| Political Science | C |
| Psychology | A- |
| Urban Planning | A- |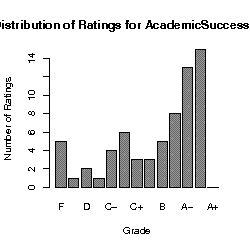 Against similar schools
Scholastic Success compared with similar schools in class.
Scholastic Success
"
... If you have solid grades, the school would be happy to pay your tuition ...
Read full comment
"
... I say a school that grades fairly , blind to race and does not manipulate your grades is a fair school ...
Read full comment
"
... I would recommend that students DO NOT apply to Iowa State University unless they only intend to drink their way through college and barely scrape...
Read full comment