Breakdown of "Collaboration/Competitive" at BSU
By Major
| | |
| --- | --- |
| Accounting | D+ |
| Anthropology | C |
| Art & Design Department | F |
| Athletics/Training | A- |
| Biology | B- |
| Business - Management and Administration | B- |
| Chemical Engineering | A- |
| Chemistry | A- |
| Communications | C- |
| Computer Science | A- |
| Criminal | B |
| Economics | A |
| Electrical Engineering | C- |
| Engineering Department | B |
| English | C- |
| Geography and Geosciences | B+ |
| Kinesiology | B |
| Language - French/Spanish/etc. | D |
| Math | A+ |
| Mechanical Engineering | B- |
| Music Education | C |
| Nursing | C |
| Other | B+ |
| Political Science | D |
| Radiological Sciences | C+ |
| Sociology | C- |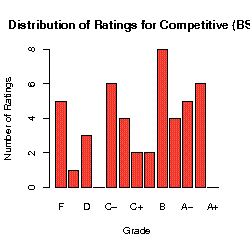 Against similar schools
Collaboration/Competitive compared with similar schools in class.
Collaboration/Competitive
"
IF YOUR FROM OUT OF STATE... PLEASE FOR YOUR OWN GOOD STAY AWAY FROM BSU! This is an extremely commuter oriented campus. This campus is completely d...
Read full comment
"
The general classes are easy and the upper division classes are challenging and engaging. The greatest thing about BSU is the accessibility of getting...
Read full comment
"
Choosing BSU was a terrible mistake. I came from California and was looking for something new and completely different. Boise has potential. Nice c...
Read full comment
"
Ok.. Please before you consider this university you have to know that this university is divided into two categories.. those kids in nearby high schoo...
Read full comment
"
Awesome City, Engineering department is very good. However some of the other departments such as math are poor. I would research your major and ask p...
Read full comment
"
I went to BSU because I was born and raised in Boise, a beautiful city with an amazingly freindly population where people still smile at eachother int...
Read full comment