Breakdown of "Social Life" at BSU
By Major
| | |
| --- | --- |
| Accounting | D+ |
| Anthropology | D+ |
| Art & Design Department | D- |
| Athletics/Training | B+ |
| Biology | C- |
| Business - Management and Administration | C |
| Chemical Engineering | A- |
| Chemistry | C |
| Communications | C- |
| Computer Science | C+ |
| Criminal | B- |
| Economics | A+ |
| Electrical Engineering | D+ |
| Engineering Department | B+ |
| English | C- |
| Geography and Geosciences | B |
| Kinesiology | B- |
| Language - French/Spanish/etc. | B |
| Math | C |
| Mechanical Engineering | B- |
| Music Education | F |
| Nursing | F |
| Other | A |
| Political Science | D- |
| Radiological Sciences | C- |
| Sociology | D+ |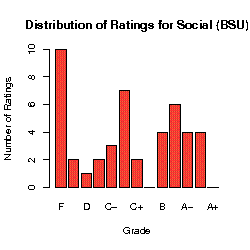 Against similar schools
Social Life compared with similar schools in class.
Social Life
"
... It may be right as a come to class school but if you want social life or a good education, find somewhere else ...
Read full comment
"
... Go to social events, join clubs, work hard in your classes, and especially for CJ majors: DO INTERNSHIPS Pros - Cheap tuition - Most profess...
Read full comment
"
... I couldn't care less about the social aspects of a university, so I really can't speak to that point if it's a deciding factor for you ...
Read full comment
"
... If you want any kind of social life, i highly recommend any other school ...
Read full comment