The University of Alabama
Breakdown of "Extracurricular Activities" at UAlabama
By Major
| | |
| --- | --- |
| Accounting | A |
| Aerospace Engineering | A- |
| Anthropology | A+ |
| Biology | B |
| Business - Management and Administration | A- |
| Chemical Engineering | B+ |
| Chemistry | A+ |
| Civil Engineering | A |
| Communications | B+ |
| Computer Engineering | A+ |
| Computer Science | A- |
| Criminal | C+ |
| Design Arts - Industrial Design/Graphic Design/etc | A+ |
| Economics | A- |
| Education | B- |
| Electrical Engineering | A |
| Finance | A |
| Fine Arts - Painting/Sculpture/Photography/etc | A |
| Geography and Geosciences | C+ |
| History/Histories (art history/etc.) | B+ |
| Journalism | A- |
| Math | A+ |
| Mechanical Engineering | A- |
| Music Education | A+ |
| Nursing | C+ |
| Nutrition | C |
| Other | B- |
| Philosophy | B- |
| Political Science | A+ |
| PreLaw and Legal | D+ |
| PreMed and Medical | A+ |
| Psychology | B+ |
| Telecommunications | C- |
| Undecided | A- |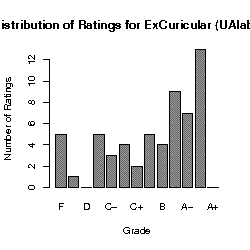 Against similar schools
Extracurricular Activities compared with similar schools in class.
Extracurricular Activities
"
... Second, if you do not plan to be in a sorority or fraternity here then you better have some one of a kind social skills, know a hand full of non...
Read full comment
"
... If your a sports fan, particularly football, then you will definitely have a fun time in this town ...
Read full comment
"
... 0 unweighted GPA in high school and participated in a great deal of extracurricular activities ...
Read full comment
"
... Of course, everyone knows about Alabama's championship tradition in sports, but this university is also 8th in the nation in producing CEO's of ...
Read full comment
"
... It is a big school, and you can fade into the crowd, but you can make it as small as you want it to be by getting involved in the numerous stude...
Read full comment
"
... However, I've got at least 3 really good friends from out of state, and at least 40 to 50 more that I've met in classes and activities ...
Read full comment