Olivet Nazarene University
Breakdown of "Collaboration/Competitive" at ONU
By Major
| | |
| --- | --- |
| Art & Design Department | A- |
| Athletics/Training | A |
| Biology | B |
| Business - Management and Administration | B |
| Communications | B |
| Computer Engineering | A- |
| Criminal | B- |
| Education | B- |
| Engineering Department | B |
| English | C |
| Finance | D |
| Geography and Geosciences | A- |
| History/Histories (art history/etc.) | A- |
| Kinesiology | A- |
| Language - French/Spanish/etc. | A+ |
| Mechanical Engineering | C+ |
| Music - Composition/Theory | A |
| Nursing | C+ |
| Nutrition | A |
| Other | C |
| Political Science | A- |
| Psychology | A+ |
| Religion/Religious | B+ |
| School of Information | C |
| Social Work | A- |
| Undecided | B- |
| Zoology | A |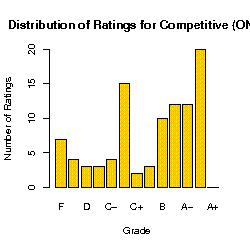 Against similar schools
Collaboration/Competitive compared with similar schools in class.
Collaboration/Competitive
"
The people of Olivet are unlike any others I have known. They are loving, accepting, and genuine. I have yet to have a bad experience with a student. ...
Read full comment
"
One of the worst colleges in the nation. If you aren't Nazarene do not go here. Went to this school for sports last year and regret it everyday when I...
Read full comment
"
Don't attend if you are not willing to put in the time and energy necessary to truly grow. Do not attend if you're gay and want to be treated equally,...
Read full comment
"
Academically Olivet is a great school, but living on campus SUCKS. The people are close minded, awkward home schooled jesus freaks that pretend like t...
Read full comment
"
... The classes rack up points based on how well they fair in sports competitions including: flag football, sand volleyball, dodgeball, ultimate fris...
Read full comment
"
This school has got to be the biggest joke in the history of Universities. Im ashamed to say I go here but I do. If your a Nazarene dont come within...
Read full comment