The University of Illinois Urbana - Champaign
Breakdown of "Surrounding City" at UIUC
By Major
| | |
| --- | --- |
| Accounting | B |
| Aerospace Engineering | A- |
| Agriculture/Horticulture | B |
| Animal Studies | B |
| Anthropology | F |
| Architecture | B- |
| Art & Design Department | B |
| Biology | B |
| Business - Management and Administration | B- |
| Chemical Engineering | B+ |
| Chemistry | C+ |
| Civil Engineering | C+ |
| Communications | D+ |
| Computer Engineering | B+ |
| Computer Science | B- |
| Cultures/Civilization | A |
| Economics | C |
| Education | B- |
| Electrical Engineering | C+ |
| Engineering Department | C+ |
| English | B |
| Finance | B |
| Fine Arts - Painting/Sculpture/Photography/etc | C+ |
| Genetics | A+ |
| History/Histories (art history/etc.) | C |
| Industrial Operations Engineering | A- |
| Journalism | B- |
| Kinesiology | C |
| Language - French/Spanish/etc. | C+ |
| Linguistics | A+ |
| Math | B- |
| Mechanical Engineering | B- |
| Music - Performance | C- |
| Music Education | B- |
| Nuclear Engineering | A |
| Nursing | A- |
| Nutrition | B+ |
| Other | B- |
| Philosophy | B- |
| Physical Therapy/Exercise Science | C- |
| Physics | C |
| Political Science | B- |
| PreLaw and Legal | A |
| PreMed and Medical | B+ |
| PreVet and Veterinary | A- |
| Psychology | B |
| Public Policy | A |
| Social Work | B+ |
| Sociology | A- |
| Undecided | C |
| Urban Planning | C- |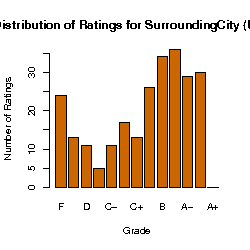 Against similar schools
Surrounding City compared with similar schools in class.
Surrounding City
"
UIUC has some very great things, but it is a big uuniversity which has communication isses within itself. As an education, its pretty good, but as fo...
Read full comment
"
... I am not to say that everyone might feel like me but that's how I feel right now, I am also looking to transfer somewhere else, at least somewher...
Read full comment
"
The high level of competition at U of I helped me in my career. It can be tough out in the work world and you will be expected to perform at a higher...
Read full comment
"
The university is quite large as it is easy to find yourself becoming lost not only in geographical direction but scholastic as well. The student bod...
Read full comment