The University of Kentucky
Breakdown of "Collaboration/Competitive" at UKY/UKentucky
By Major
| | |
| --- | --- |
| Accounting | A- |
| Aerospace Engineering | D+ |
| Agriculture/Horticulture | B |
| Animal Studies | B- |
| Anthropology | B |
| Architecture | B |
| Architecture & Urban Planning Department | D+ |
| Art & Design Department | C |
| Athletics/Training | B |
| Biology | B+ |
| Business - Management and Administration | B |
| Chemical Engineering | B- |
| Chemistry | C- |
| Civil Engineering | B |
| Communications | B- |
| Computer Engineering | A+ |
| Computer Science | C |
| Economics | A+ |
| Education | B |
| Engineering Department | A |
| English | B |
| Fine Arts - Painting/Sculpture/Photography/etc | A |
| History/Histories (art history/etc.) | B |
| Kinesiology | A- |
| Language - French/Spanish/etc. | A |
| Mechanical Engineering | B- |
| Music Education | A |
| Nursing | F |
| Other | B- |
| Perfomance Arts | B+ |
| Pharmacy | B |
| Political Science | B- |
| PreLaw and Legal | A- |
| PreMed and Medical | A- |
| Psychology | C |
| Sociology | C+ |
| Undecided | C- |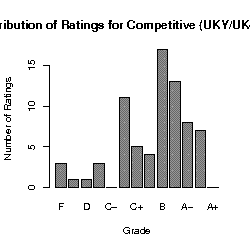 Against similar schools
Collaboration/Competitive compared with similar schools in class.
Collaboration/Competitive
"
If you enjoy any kind of culture, diversity, and entertainment that does not consist of drinking till you pass out then UK is not the place for you. T...
Read full comment
"
The faculty are very inaccessible. The social atmosphere is dominated by fraternities and sororities. The community is filled to the brim with old m...
Read full comment
"
I'll admit that I spent my first year and a half rather unhappy. I didn't enjoy the dorms, personally, and didn't know many people. (Since then there ...
Read full comment
"
As a New Yorker, who had lived in Kentucky for five years, I thought UK was going to be an extension of the "Dukes of Hazard" mentality I had experien...
Read full comment
"
I attended a small, private high school in a larger city and thought I wanted the change of a big school. Upon arriving at UK, however, I realized tha...
Read full comment
"
If you are white, born and raised in Kentucky, and have you're whole high school going with you to college than this is the school for you! However i...
Read full comment
"
I went to a prestigious college prep school, so I was well prepared for college. I lived in a very heavily populated area and could not wait to get ou...
Read full comment