Breakdown of "Collaboration/Competitive" at MCPHS
By Major
| | |
| --- | --- |
| Biology | C |
| Chemistry | B- |
| Nuclear Engineering | A+ |
| Nursing | C+ |
| Other | D+ |
| Pharmacy | C- |
| PreDent and Dentistry | A+ |
| PreMed and Medical | C |
| PreVet and Veterinary | F |
| Radiological Sciences | C |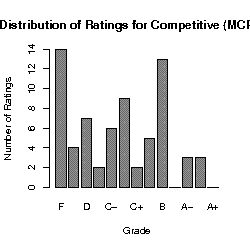 Against similar schools
Collaboration/Competitive compared with similar schools in class.
Collaboration/Competitive
"
I am a current PharmD student at MCPHS. I am glad that I chose this school. The school has a really great Pharmacy program and all the faculty is very...
Read full comment
"
First off, I must speak from the point of view of a Nursing Student. This is an accelerated program. It is fast paced and hard. Where most colleges wo...
Read full comment
"
Hello, I guess this is not a bad school. If you work very hard, and if you are a bright student with organized lifestyles and pretty good time-mana...
Read full comment
"
Space is a huge issue at MCPHS: there are five full-fledged computer labs (one of them being a poor excuse of a "library") and a few common areas/hall...
Read full comment
"
This is a terrible school. Believe me, when I was applying for the school I read all the negative reviews and dismissed them as just angry letters fro...
Read full comment
"
MCPHS (Boston campus) is a very academic institution. It's hard to find a place in the school where students aren't buried in their books/notes. Tha...
Read full comment
"
After my first semester freshman year and the big transition to living in the big city and taking on college classes, I didn't do so well academically...
Read full comment
"
I feel as though I am receiving a very good education from the school. Putting in lots of work and getting help when needed is necessary but in an acc...
Read full comment