The Massachusetts Institute of Technology
Breakdown of "Scholastic Success" at MIT
By Major
| | |
| --- | --- |
| Aerospace Engineering | B |
| Architecture | B- |
| Biology | A- |
| Business - Management and Administration | A- |
| Chemical Engineering | A |
| Chemistry | A |
| Civil Engineering | A |
| Communications | A- |
| Computer Engineering | B- |
| Computer Science | A- |
| Economics | B- |
| Electrical Engineering | B |
| Engineering Department | A |
| Finance | A- |
| Geography and Geosciences | A- |
| Math | A |
| Mechanical Engineering | A- |
| Neuroscience/Cognitive Science | A+ |
| Nuclear Engineering | A |
| Other | A- |
| Physics | A+ |
| Political Science | A+ |
| PreMed and Medical | A- |
| Undecided | C- |
| Urban Planning | A |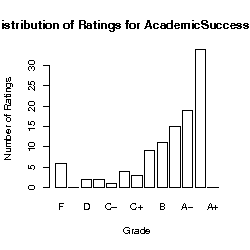 Against similar schools
Scholastic Success compared with similar schools in class.
Scholastic Success
"
... Unfortunately, for people of average smartness it is easy to be dragged into doing the crap work (lots of problem sets, labs, projects and pap...
Read full comment
"
... Classes based on everyone else's grades are the norm no matter what people say ...
Read full comment
"
... I really love mit even though its very challenging and very hard to get amazing grades ...
Read full comment
"
... But it's a great place to be from if you apply yourself and have the grades and well-roundedness required now to get in ...
Read full comment