Breakdown of "Education Quality" at MIC
By Major
| | |
| --- | --- |
| Animal Studies | D+ |
| Biology | C |
| Business - Management and Administration | A- |
| Chemistry | D |
| Communications | A- |
| Criminal | B+ |
| Design Arts - Industrial Design/Graphic Design/etc | B |
| Education | D |
| Fine Arts - Painting/Sculpture/Photography/etc | D+ |
| Interior Design | A |
| Other | C- |
| PreVet and Veterinary | B+ |
| Psychology | B- |
| Undecided | D |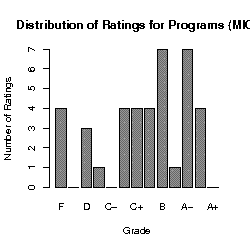 Against similar schools
Education Quality compared with similar schools in class.
Education Quality
"
... Save your money and your time and seek a quality education elsewhere ...
Read full comment
"
... Unless you like being screwed over and wasting your money on a shitty education and enjoy living in a 20 sq ft room for four years do not go here...
Read full comment
"
... The professors are indeed smart out of 14 only 4 were not PHD''s they know what there talking about and for the most part all care about the stu...
Read full comment
"
... If you ask her for clarification, she'd force you to answer your own question- but I'm paying for this education out of MY pocket ...
Read full comment