Breakdown of "Collaboration/Competitive" at Alma
By Major
| | |
| --- | --- |
| Art & Design Department | A- |
| Biology | B- |
| Business - Management and Administration | A- |
| Communications | C- |
| Computer Science | B+ |
| Education | A |
| English | A |
| Music - Performance | D |
| Physics | B- |
| Political Science | A- |
| Psychology | A- |
| Undecided | B+ |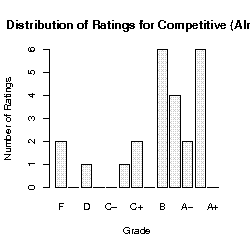 Against similar schools
Collaboration/Competitive compared with similar schools in class.
Collaboration/Competitive
"
I am almost completed my first year at Alma, and I truely believe that this is one of the best Liberal Arts colleges in Michigan. Though the school m...
Read full comment
"
If you don't drink I mean a lot and don't want to be greek your out of luck becuase what little life is their is highly centered around this. The town...
Read full comment
"
I'm finishing up my third year here at Alma, and while there are things that I'm not fond of, I have to say that I would not go to another school. ...
Read full comment
"
I believe that Alma College has helped me to become very successful, thus far. I do not agree w/ some of the comments made by previous students, but ...
Read full comment