Central Michigan University
Breakdown of "Extracurricular Activities" at CMU
By Major
| | |
| --- | --- |
| Accounting | C- |
| Anthropology | D+ |
| Art & Design Department | A- |
| Athletics/Training | A+ |
| Biology | D+ |
| Business - Management and Administration | B- |
| Chemical Engineering | A |
| Chemistry | B |
| Communications | C- |
| Computer Engineering | C+ |
| Computer Science | C- |
| Cultures/Civilization | C+ |
| Design Arts - Industrial Design/Graphic Design/etc | A+ |
| Economics | A |
| Education | B+ |
| Engineering Department | A |
| English | B |
| Finance | A+ |
| Fine Arts - Painting/Sculpture/Photography/etc | B- |
| History/Histories (art history/etc.) | B- |
| Industrial Operations Engineering | A |
| Interior Design | B+ |
| Kinesiology | B- |
| Math | B- |
| Mechanical Engineering | C |
| Music Education | A+ |
| Neuroscience/Cognitive Science | A- |
| Nutrition | F |
| Other | C |
| Physics | B+ |
| Political Science | A- |
| PreMed and Medical | B+ |
| Psychology | C+ |
| Public Policy | A+ |
| Social Work | B- |
| Sociology | C |
| Undecided | C+ |
| Video/Media | B+ |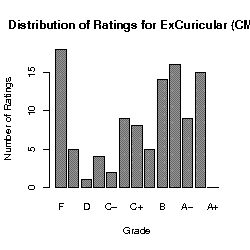 Against similar schools
Extracurricular Activities compared with similar schools in class.
Extracurricular Activities
"
... I came here based upon the advice of a friend, he said that it is a fairly good school with a huge chance to get involved in social activities ...
Read full comment
"
... Pleasant itself isn't as exciting as East Lansing or Ann Arbor, the university does all it can to provide fun activities throughout the year ...
Read full comment
"
... If you care about athletics, buy a big screen tv because we suck at sports, we're here to party ...
Read full comment
"
... Athletics are a huge thing especially football with dan lefevour but hes gone now, seriously the university pours most of its money into football...
Read full comment
"
... There are get campus activities during homecoming, but sometimes there are some stupid programs put on by people ...
Read full comment