The University of Michigan - Ann Arbor
Breakdown of "Campus Maintenance" at UMich
By Major
| | |
| --- | --- |
| Accounting | B- |
| Aerospace Engineering | A- |
| Anthropology | A+ |
| Archaeology | A- |
| Architecture | B |
| Architecture & Urban Planning Department | B+ |
| Art & Design Department | A- |
| Astronomy | B+ |
| Biology | B+ |
| Business - Management and Administration | A- |
| Chemical Engineering | B+ |
| Chemistry | B |
| Civil Engineering | A |
| Communications | B |
| Computer Engineering | A- |
| Computer Science | A- |
| Cultures/Civilization | A- |
| Economics | B+ |
| Education | A- |
| Electrical Engineering | B+ |
| Engineering Department | A |
| English | B+ |
| Finance | A |
| Fine Arts - Painting/Sculpture/Photography/etc | B- |
| Geography and Geosciences | B+ |
| History/Histories (art history/etc.) | B+ |
| Industrial Operations Engineering | A- |
| Journalism | B |
| Kinesiology | A- |
| Language - French/Spanish/etc. | A- |
| Linguistics | A- |
| Math | A- |
| Mechanical Engineering | A |
| Music - Composition/Theory | C+ |
| Music - Performance | B |
| Music Education | A |
| Neuroscience/Cognitive Science | A |
| Nuclear Engineering | B- |
| Nursing | A- |
| Other | A- |
| Perfomance Arts | B- |
| Pharmacy | B- |
| Philosophy | A |
| Physics | A- |
| Political Science | A- |
| PreLaw and Legal | B+ |
| PreMed and Medical | B |
| Psychology | B+ |
| Sociology | B+ |
| Undecided | B |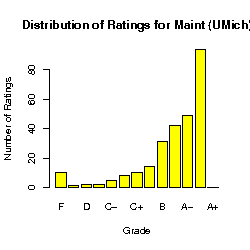 Against similar schools
Campus Maintenance compared with similar schools in class.
Campus Maintenance
"
... The campus is pretty, although thanks to the amount of never ending maintenance, it usually looks like a construction site ...
Read full comment
"
... Not to mention that none of the facilities are ever maintained during the school year ...
Read full comment
"
... One person being a triple major and maintaining nearly a 4 GPA even while taking first year graduate courses ...
Read full comment