The University of Mississippi
Breakdown of "Extracurricular Activities" at OLEMISS/UMiss
By Major
| | |
| --- | --- |
| Accounting | B |
| Biology | A |
| Business - Management and Administration | B |
| Chemistry | B |
| Civil Engineering | A |
| Computer Science | A+ |
| Criminal | A |
| Economics | C+ |
| Education | A+ |
| Electrical Engineering | B |
| English | C |
| Geography and Geosciences | B+ |
| History/Histories (art history/etc.) | D- |
| Journalism | A+ |
| Language - French/Spanish/etc. | F |
| Nursing | C+ |
| Other | A+ |
| Perfomance Arts | C |
| Pharmacy | C |
| Philosophy | C |
| Political Science | A |
| PreLaw and Legal | C+ |
| PreMed and Medical | A- |
| Psychology | D+ |
| Public Policy | A |
| Social Work | B+ |
| Sociology | A- |
| Undecided | C- |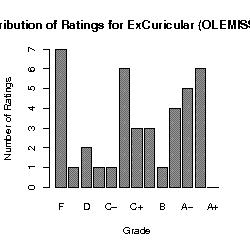 Against similar schools
Extracurricular Activities compared with similar schools in class.
Extracurricular Activities
"
... The school is more focused on there partying and sports than they are hiring good professors and making sure the curriculum is adequate ...
Read full comment
"
... Now it's a good school when it comes to classes, sports, frat parties, etc ...
Read full comment
"
... The Greek system here really is as ostentatious as any rumors you might have heard, and rush activities dominate the campus ...
Read full comment
"
... However, what they DON'T tell you when you look at the school is the complete lack of social activities and student organizations ...
Read full comment