Arizona State University - Tempe
Breakdown of "Innovation" at ASU-Tempe
By Major
| | |
| --- | --- |
| Accounting | B |
| Aerospace Engineering | C |
| Anthropology | F |
| Architecture | B- |
| Architecture & Urban Planning Department | A+ |
| Art & Design Department | C- |
| Biology | B+ |
| Business - Management and Administration | B- |
| Chemistry | B- |
| Civil Engineering | B |
| Communications | C |
| Computer Engineering | C+ |
| Computer Science | F |
| Criminal | C- |
| Economics | C+ |
| Education | C+ |
| Electrical Engineering | B- |
| Engineering Department | B |
| English | B- |
| Finance | D |
| Fine Arts - Painting/Sculpture/Photography/etc | B- |
| Geography and Geosciences | A- |
| History/Histories (art history/etc.) | C |
| Interior Design | A |
| Journalism | C |
| Kinesiology | C |
| Language - French/Spanish/etc. | C |
| Linguistics | D+ |
| Math | B |
| Mechanical Engineering | C+ |
| Music - Performance | B |
| Nursing | A- |
| Other | B- |
| Perfomance Arts | A+ |
| Political Science | B- |
| PreLaw and Legal | B+ |
| PreMed and Medical | D+ |
| Psychology | B- |
| Social Work | B |
| Sociology | B |
| Undecided | C- |
| Urban Planning | C- |
| Video/Media | C |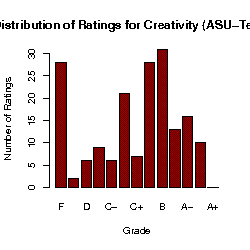 Against similar schools
Innovation compared with similar schools in class.
Innovation
"
... I would recommend choosing either a program that ASU is highly ranked in (engineering, construction, Business School-- especially Supply Chain Ma...
Read full comment
"
... In about 10 years ASU will become a Mega University that innovates and becomes a world leader ...
Read full comment
"
... However, if you are willing to think creatively, standup, and speak out, then this might be the right place for you ...
Read full comment
"
... Arizona State University prides itself on a program it calls the Innovation Challenge ...
Read full comment