Breakdown of "Perceived Campus Safety" at WFU
By Major
| | |
| --- | --- |
| Anthropology | A+ |
| Art & Design Department | B |
| Biology | A |
| Business - Management and Administration | A |
| Chemistry | A |
| Communications | A+ |
| Economics | A- |
| Education | A |
| English | A- |
| Finance | A |
| Fine Arts - Painting/Sculpture/Photography/etc | A |
| History/Histories (art history/etc.) | A |
| Language - French/Spanish/etc. | A+ |
| Linguistics | A+ |
| Math | A- |
| Natural Resources | F |
| Other | A |
| Perfomance Arts | A |
| Pharmacy | C |
| Philosophy | B |
| Physics | B+ |
| Political Science | A |
| PreMed and Medical | A+ |
| Psychology | A+ |
| Religion/Religious | B |
| Sociology | A- |
| Undecided | B |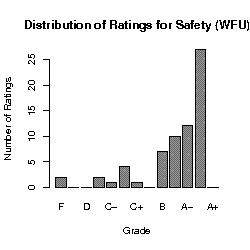 Against similar schools
Perceived Campus Safety compared with similar schools in class.
Perceived Campus Safety
"
... To this day, the image is still engraved in my memories: a young, hefty Jewish man was being castrated with a hammer while a half dozen large fra...
Read full comment
"
... My penis was cut off then shoved down my throat, i was raped in the showers ...
Read full comment
"
... Which again would not be a terrible thing if this were well known--however, it is not and that is a crime ...
Read full comment
"
... I developed a great fondness for literature in extremis, and must have read every book in Reynolda library that explored sexual perversion, cr...
Read full comment