North Dakota State University
Breakdown of "Collaboration/Competitive" at NDSU
By Major
| | |
| --- | --- |
| Accounting | A- |
| Animal Studies | B |
| Architecture | C |
| Athletics/Training | A- |
| Business - Management and Administration | A |
| Communications | B+ |
| Computer Science | B+ |
| Electrical Engineering | A- |
| Engineering Department | A |
| Interior Design | B |
| Kinesiology | C+ |
| Math | A- |
| Mechanical Engineering | C- |
| Other | B |
| Political Science | F |
| Undecided | B- |
| Zoology | B+ |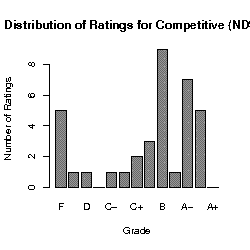 Against similar schools
Collaboration/Competitive compared with similar schools in class.
Collaboration/Competitive
"
This school is for loners, so if you can pull it off do it, However, I'm a cityguy and I'm moving next semester. The program is considered to be sup...
Read full comment
"
This school is research based. If you want a great opportunity as an undergraduate to get your hands on some lab experience, it is the perfect place. ...
Read full comment
"
I am from a big city and moving to Fargo was enough of a shock. The city and university has nothing and it is very conservative. The students are all ...
Read full comment
"
I thought the small town feel of North Dakata would be more welcoming.I didn't know that small town meant small minded. Im only from Minneapolis but m...
Read full comment
"
Being in ND it's pretty friendly and slow paced. For people around here it's a pretty big college and city but if you are coming from a big city it's...
Read full comment
"
You get out of North Dakota State University what you put into it. Academics: The majority of people teaching the classes have the highest deg...
Read full comment
"
As long as you NEVER drink, you might like this school. Not much to do is the #1 complaint heard from school mates. #2 is "got another minor" of my...
Read full comment