Breakdown of "Extracurricular Activities" at KSC
By Major
| | |
| --- | --- |
| Art & Design Department | C- |
| Athletics/Training | B+ |
| Biology | B- |
| Business - Management and Administration | B |
| Chemistry | A+ |
| Communications | B+ |
| Computer Science | A- |
| Design Arts - Industrial Design/Graphic Design/etc | A |
| Education | B |
| Engineering Department | A+ |
| English | F |
| Fine Arts - Painting/Sculpture/Photography/etc | A- |
| Geography and Geosciences | B- |
| Journalism | B |
| Math | B- |
| Music - Performance | D |
| Music Education | A+ |
| Nutrition | B |
| Other | C |
| Perfomance Arts | B+ |
| Political Science | B+ |
| PreLaw and Legal | B |
| Psychology | B |
| Public Health | B+ |
| Undecided | B |
| Video/Media | B- |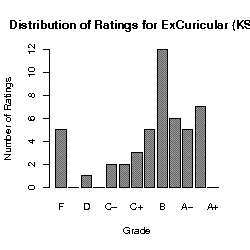 Against similar schools
Extracurricular Activities compared with similar schools in class.
Extracurricular Activities
"
... One major frat has a party on Thursday, then small sports houses have parties the other nights ...
Read full comment
"
... While the school sponsors plenty of alternative activities, it seems like everyone engages in some sort of alcoholic activity on the weekends, an...
Read full comment
"
... You have the athletes (even though the sports suck here), the stoners, the bitches, the whores, the fat whores, the laid-back kids ...
Read full comment
"
... It was so easy to meet people and there are so many clubs and sports you can join, so take advantage of it ...
Read full comment
"
... The student center tries to sponsor activities for students on the weekends, but they dont bother because everyone is out drinking on the cold ne...
Read full comment