New Jersey City University
Breakdown of "Collaboration/Competitive" at NJCU
By Major
| | |
| --- | --- |
| Accounting | B+ |
| Art & Design Department | B- |
| Business - Management and Administration | B- |
| Computer Science | B |
| Criminal | B+ |
| Education | C+ |
| English | F |
| Finance | B+ |
| History/Histories (art history/etc.) | B- |
| Other | B+ |
| Political Science | B |
| Psychology | B |
| Sociology | C |
| Undecided | C- |
| Video/Media | A |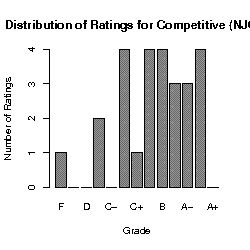 Against similar schools
Collaboration/Competitive compared with similar schools in class.
Collaboration/Competitive
"
Bhaumil, INDIA , B.S. in Accounting Major. Expected graduation 2018 I feel proud to be a part of the NJCU accounting program. Accounting is very impor...
Read full comment
"
I loved the school. It was one of the best experiences I had for a college. Best thing is that it is close to NYC lots of partying in the city and g...
Read full comment
"
Currently a senior.New Jersey City University is a good school.A lot of the students here have busy schedules and work full or part time.NJCU understa...
Read full comment
"
The best thing about this school is that you're never in a classroom with 200 students. You get individual attention, and you actually learn. Plus, as...
Read full comment
"
I'm starting this school in the fall and i don't know what that last person was talking about. The side streets next to NJCU are residential blocks. T...
Read full comment
"
That dude was right on about the cafe food. Everything at this university on the border of JC is EXPENSIVE! Parking in the closest garage costs six do...
Read full comment
"
I attended Parson's School of Design originally and transferred to NJCU because it was closer to home. What a great decision! The profs actually hav...
Read full comment
"
The food was horrible! You were better off bringing a bagged lunch. Only trust sandwiches there if you have no choice. Minorities are the majority, so...
Read full comment