Montclair State University
Breakdown of "Collaboration/Competitive" at MSU
By Major
| | |
| --- | --- |
| Accounting | B |
| Anthropology | B- |
| Art & Design Department | C+ |
| Biology | B- |
| Business - Management and Administration | C- |
| Chemistry | B |
| Communications | C |
| Computer Science | C- |
| Criminal | C+ |
| Economics | A+ |
| Education | B- |
| Engineering Department | A+ |
| English | C |
| Finance | B- |
| Fine Arts - Painting/Sculpture/Photography/etc | D- |
| History/Histories (art history/etc.) | C |
| Linguistics | A+ |
| Math | F |
| Music - Performance | D+ |
| Music Education | C+ |
| Nutrition | D+ |
| Other | B- |
| Philosophy | D |
| Physical Therapy/Exercise Science | B |
| Political Science | B- |
| Psychology | B+ |
| Social Work | F |
| Sociology | B |
| Undecided | C- |
| Video/Media | B |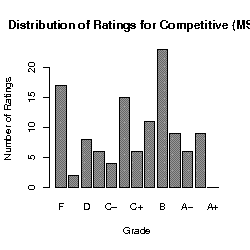 Against similar schools
Collaboration/Competitive compared with similar schools in class.
Collaboration/Competitive
"
DON'T GO HERE. I transferred here and it disgusts me that I was tricked into going to this school. The only positive thing I can say is that there are...
Read full comment
"
... Most admissions committees will not have a good impression of you due to competition ...
Read full comment
"
THIS PLACE SUCKS! If you were to combine a jail and retirement home, it would be MSU. There is seriously NOTHING to do, especially on weekends unless ...
Read full comment
"
I feel pretty comfortable here. The campus is convenient as to the lack of need for transportation and is close to the city which is a plus. The admin...
Read full comment
"
I LOVE MSU! It is a beautiful campus and my professors are wonderful. I'm a country-girl at heart so I love the beautiful landscape. It is a perfec...
Read full comment