Breakdown of "Scholastic Success" at Princeton
By Major
| | |
| --- | --- |
| Animal Studies | A- |
| Anthropology | B |
| Architecture | A+ |
| Art & Design Department | B- |
| Biology | A- |
| Business - Management and Administration | A+ |
| Chemical Engineering | B- |
| Chemistry | B- |
| Communications | B- |
| Computer Engineering | A- |
| Computer Science | B |
| Criminal | B |
| Cultures/Civilization | C |
| Economics | A- |
| Education | A+ |
| Electrical Engineering | A- |
| Engineering Department | A |
| English | B- |
| Fine Arts - Painting/Sculpture/Photography/etc | A- |
| Geography and Geosciences | A+ |
| History/Histories (art history/etc.) | B+ |
| Language - French/Spanish/etc. | B- |
| Math | A |
| Mechanical Engineering | A |
| Neuroscience/Cognitive Science | A- |
| Other | A- |
| Philosophy | A- |
| Physics | A |
| Political Science | A |
| PreLaw and Legal | A- |
| PreMed and Medical | B |
| Psychology | A |
| Public Policy | A+ |
| Religion/Religious | B |
| Undecided | A |
| Zoology | C |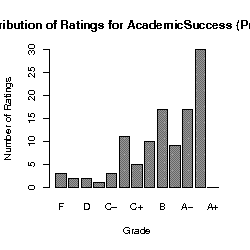 Against similar schools
Scholastic Success compared with similar schools in class.
Scholastic Success
"
... But something happens to people when they come to Princeton: they become wholly preoccupied with getting the perfect grades (because people here ...
Read full comment
"
... If you care about grades more than learning and being intellectually stimulated, you shouldn't come here because it is hard and you will get dis...
Read full comment
"
... The premed students here are extremely competitive, snooty, and would care about their grades more than helping you ...
Read full comment
"
... I did not get good grades at Princeton (due primarily to academic laziness, which I would love to go back and change if I could) but I still fin...
Read full comment
"
... There's the policy of grade deflation, meaning that only 35% of the grades in a given class can be in the 'A' range ...
Read full comment