Breakdown of "Collaboration/Competitive" at Princeton
By Major
| | |
| --- | --- |
| Animal Studies | A- |
| Anthropology | A |
| Architecture | A- |
| Art & Design Department | B |
| Biology | B- |
| Business - Management and Administration | B- |
| Chemical Engineering | A- |
| Chemistry | C |
| Communications | B+ |
| Computer Engineering | A- |
| Computer Science | C+ |
| Criminal | B+ |
| Cultures/Civilization | A |
| Economics | A- |
| Education | A+ |
| Electrical Engineering | A- |
| Engineering Department | B+ |
| English | B- |
| Fine Arts - Painting/Sculpture/Photography/etc | B+ |
| Geography and Geosciences | A |
| History/Histories (art history/etc.) | B+ |
| Language - French/Spanish/etc. | A- |
| Math | A |
| Mechanical Engineering | A- |
| Neuroscience/Cognitive Science | A+ |
| Other | A- |
| Philosophy | A- |
| Physics | A |
| Political Science | B+ |
| PreLaw and Legal | D- |
| PreMed and Medical | A- |
| Psychology | A- |
| Public Policy | A- |
| Religion/Religious | C+ |
| Undecided | B |
| Zoology | A- |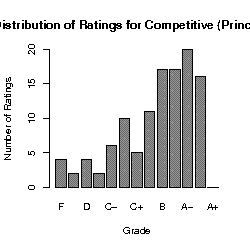 Against similar schools
Collaboration/Competitive compared with similar schools in class.
Collaboration/Competitive
"
Princeton has amazing things about it. Firstly, the academics are the best on the planet. I could never have received a better education, I think. T...
Read full comment
"
... This place doesn't foster intelligent discourse or love of learning, it fosters competition ...
Read full comment
"
Though a little worn down, Princeton students never stop. Day and night and through the next day, Pton students write, read, and hang out. There's a...
Read full comment
"
... People are very laid-back, and cutthroat competition doesn't fly ...
Read full comment