Breakdown of "Collaboration/Competitive" at Barnard
By Major
| | |
| --- | --- |
| Architecture | A |
| Chemistry | A+ |
| Economics | B |
| English | A- |
| History/Histories (art history/etc.) | C+ |
| Math | B+ |
| Mechanical Engineering | B |
| Music - Composition/Theory | B |
| Neuroscience/Cognitive Science | C+ |
| Perfomance Arts | B- |
| Philosophy | C |
| Physics | B |
| Psychology | A |
| Undecided | B |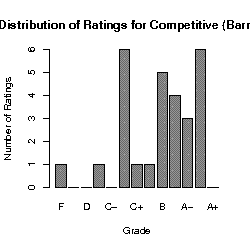 Against similar schools
Collaboration/Competitive compared with similar schools in class.
Collaboration/Competitive
"
Barnard is a great school but it's not for everyone. It's in New York City and has almost every type of student. If you come from a homogenous envir...
Read full comment
"
I would just like to begin with the fact that I am pre-med. I don't know what it is like to be an average Barnard girl, but from what I can tell, thos...
Read full comment
"
I love Barnard, and I honestly couldn't go anywhere else. New York City is wonderful, and I've learned so much from living there. Although the student...
Read full comment
"
Never before and never since did I learn as much and enjoy myself as much as I did in college. Barnard attacts the most amazing students and faculty....
Read full comment
"
... For someone who has never cared much for talking about grades or prying into other people's academic affairs, I found the competition here to be ...
Read full comment
"
Barnard is a wonderful school with a very open-minded, liberal, and intellectual student body. The coursework can be challenging, but professors are ...
Read full comment
"
I am a freshman at Barnard, and I love it here. I was enthusiastic about Barnard from the very beginning, and I remember worrying if the college wo...
Read full comment
"
Anyone looking for a small liberal university in the best city in the country... well they pretty much could only choose Barnard. It is a beautiful, s...
Read full comment
"
I'm working on transferring to another college as we speak. Barnard is the biggest waste of time and money--especially money--that I've ever had the m...
Read full comment