Berkeley College Westchester Campus
Breakdown of "Campus Aesthetics" at BC-Westchester
By Major
| | |
| --- | --- |
| Accounting | B- |
| Business - Management and Administration | D+ |
| Finance | F |
| Other | C- |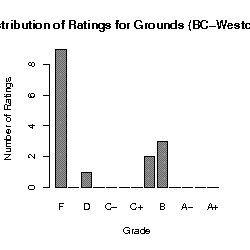 Against similar schools
Campus Aesthetics compared with similar schools in class.
Berkeley College Westchester Campus
D+
Average of All Schools
B
Average of schools in class
A-
---
Pensacola Christian College
A-
South Cheshire College
B-
Campus Aesthetics
"
... Then, they tried to enroll me for a campus that did not have dorms, and i come from a different state that is six hours away ...
Read full comment
"
... Not until everything was processed and I was ready to go visit did they tell me that they did not have dorms in the city (NYC) I was told that th...
Read full comment
"
... After I was accepted into the school, I kept getting calls from the school asking if I would like to attend Berkeley College *There isn't a cafet...
Read full comment
"
... I've wasted two years of my life and money at the Berkeley College Westchester Campus, and I regret it so very much ...
Read full comment
"
... Little did I know, when I was picking out courses for my fourth quarter, my dean told me "we do not offer finance courses here at this campus and...
Read full comment
"
... Being at the White Plains campus of Berkeley College for as long as I have, I have seen and experienced enough to honestly say that Berkeley has b...
Read full comment
"
... Also, you're more than likely going to have to travel to the midtown campus for some classes ...
Read full comment