Berkeley College Westchester Campus
Breakdown of "Education Quality" at BC-Westchester
By Major
| | |
| --- | --- |
| Accounting | D+ |
| Business - Management and Administration | C- |
| Finance | F |
| Other | B- |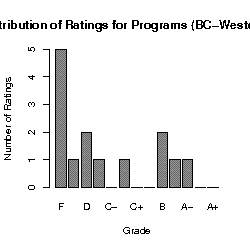 Against similar schools
Education Quality compared with similar schools in class.
Berkeley College Westchester Campus
C-
Average of All Schools
B
Average of schools in class
B
---
Pensacola Christian College
B
South Cheshire College
B
Education Quality
"
... College has definitely helped me to achieve success in the business world and then further my education ...
Read full comment
"
... What's more, is that the most intelligent and interest professors I've had at Berkeley would often pull the brighter students aside near the ...
Read full comment
"
... However, they are constantly forced to "dumb down" their courses because students do not attend classes, or put any type of effort into their edu...
Read full comment
"
... What is the point of paying so much for a college education if I'm going to leave knowing nothing ...
Read full comment
"
... Berkeley is quite convenient to my house so I just figured it would be a reasonable commute with a solid education ...
Read full comment