Breakdown of "Individual Value" at Cornell
By Major
| | |
| --- | --- |
| Accounting | F |
| Aerospace Engineering | C- |
| Animal Studies | B+ |
| Anthropology | C+ |
| Architecture | B- |
| Architecture & Urban Planning Department | A |
| Biology | B |
| Business - Management and Administration | B |
| Chemical Engineering | B+ |
| Chemistry | C- |
| Civil Engineering | B |
| Communications | B+ |
| Computer Engineering | B |
| Computer Science | B- |
| Design Arts - Industrial Design/Graphic Design/etc | C- |
| Economics | C+ |
| Electrical Engineering | B+ |
| Engineering Department | B |
| English | C |
| Finance | C |
| History/Histories (art history/etc.) | C+ |
| Industrial Operations Engineering | B- |
| Mechanical Engineering | B- |
| Meteorology | B |
| Natural Resources | A |
| Other | B |
| Philosophy | A- |
| Physics | B |
| Political Science | B |
| PreLaw and Legal | B+ |
| PreMed and Medical | A |
| Psychology | A- |
| Public Policy | B |
| Sociology | A- |
| Undecided | B+ |
| Urban Planning | A- |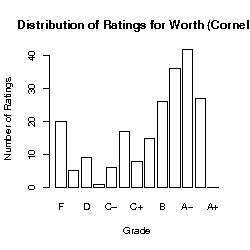 Against similar schools
Individual Value compared with similar schools in class.
Individual Value
"
... What was the point of studying 20 novels in a writing course if each novel was given a measly one or two classes of individual treatment ...
Read full comment
"
... Individual departments and colleges are run very competently and most professors will treat you well and have willing moved to the small town of ...
Read full comment
"
... Another amazing thing about Cornell is that it has the resources of a large university but your individual school gives you alot of personal atte...
Read full comment
"
... This work, however, is all left to individual professors, who while well meaning are seriously under funded, under paid, and treated just as badl...
Read full comment
"
... Ithaca is truly a diverse and individual place with plenty of gems to be discovered ...
Read full comment