Breakdown of "Collaboration/Competitive" at LIUB
By Major
| | |
| --- | --- |
| Biology | C+ |
| Business - Management and Administration | D+ |
| Computer Science | C+ |
| Finance | D+ |
| Journalism | B- |
| Music Education | D+ |
| Nursing | C+ |
| Other | C+ |
| Perfomance Arts | B |
| Pharmacy | C- |
| PreLaw and Legal | B+ |
| Psychology | C |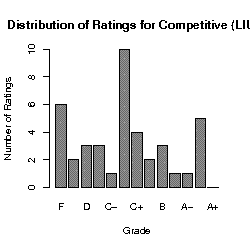 Against similar schools
Collaboration/Competitive compared with similar schools in class.
Collaboration/Competitive
"
Horrible school, came as a out of state student. Elevator was always broken, food is horrible, most of the time i ate in the city, most of the student...
Read full comment
"
Well, i like it here at LIU im not going to front its not perfect but what school is? yes, sometimes its a hastle to get through finacial aid or bursa...
Read full comment
"
So, I am a Biology major, and I just finished up my second year. I decided to come here, only after I had a tough decision my Senior year and compared...
Read full comment
"
currently, i am a male, second-semester sophomore who dorms at the campus. i'm not much of a writer...i pretty much do lists but i will try to elab...
Read full comment
"
It was fine for me. LIU is one of only FIVE Pharmacy schools in New York State so it's obviously going to be competitive. It's a six year program and ...
Read full comment
"
I LOOVE LIU I do not know why there are so many negative comments about such a school. If you are reading this please disregard the negative comments ...
Read full comment
"
The people in this school has been great to me and as helpful as possible. The professors when you talk to them actually has been helpful and there is...
Read full comment