Breakdown of "Education Quality" at MRC
By Gender
Male
A-
Female
A-

By Major
Accounting
B-
Art & Design Department
A
Biology
A-
Business - Management and Administration
A-
Chemistry
A+
Communications
A-
Computer Science
B+
Criminal
A-
Design Arts - Industrial Design/Graphic Design/etc
A-
Economics
A-
Education
A
English
A
Finance
A-
Fine Arts - Painting/Sculpture/Photography/etc
A
History/Histories (art history/etc.)
A
Journalism
B
Language - French/Spanish/etc.
A-
Linguistics
C-
Math
A
Music Education
A
Other
A-
Political Science
A-
PreMed and Medical
A
PreVet and Veterinary
A+
Psychology
B
School of Information
A-
Social Work
A-
Undecided
B+
Video/Media
A

Against similar schools
Education Quality compared with similar schools in class.
Quotes touching on Education Quality
| | |
| --- | --- |
| | "... On the other hand, the education level is very good ..." |
| | |
| --- | --- |
| | "... Marist's educational quality is not the problem at all ..." |
| | |
| --- | --- |
| | "... Marist makes you choose between an education and your sanity ..." |
| | |
| --- | --- |
| | "... They know their education can never match ours, and they can't say that Bill O'Reilly graduated from their school ..." |
| | |
| --- | --- |
| | "... Basically a private school education at a 25-30% discount ..." |
| | |
| --- | --- |
| | "... If you actually want to learn, The staff has faculty with immense experience and drive for education, you just have to find them ..." |
| | |
| --- | --- |
| | "... The faculty and administration of Marist College is very helpful and dedicated to their mission of a higher education for all students ..." |
| | |
| --- | --- |
| | "... The education that I have received thus far is well worth the money ..." |
| | |
| --- | --- |
| | "... I have greatly enjoyed my time so far at Marist and have had a very positive educational as well as social experience ..." |
| | |
| --- | --- |
| | "... Marist values each of its students and especially with the small class sizes, you really get a personlized education which I feel helps me to lea..." |
| | |
| --- | --- |
| | "... I highly recommend Marist College to anyone who is looking for a quality education with great experiences while also having a great time ..." |
| | |
| --- | --- |
| | "... I am currently a sophomore at Marist College, majoring in Spanish Secondary Education with a minor in psychology ..." |
| | |
| --- | --- |
| | "... Sometimes a little too small, but otherwise, a great place to attend for higher education ..." |
| | |
| --- | --- |
| | "... Not only is the campus beautiful, the education is outstanding ..." |
| | |
| --- | --- |
| | "... They provide a well rounded education, and also provide great internship opportunities ..." |
| | |
| --- | --- |
| | "... Marist is full of highly involved and community oriented students who seek to gain the most their educational experience ..." |
| | |
| --- | --- |
| | "... It's also nice that there are a lot of different majors in that I have friends who are art majors, accounting majors, science majors, education m..." |
| | |
| --- | --- |
| | "... Despite having a lot of entertaining places to visit, there are also many historical and educational sites to see ..." |
| | |
| --- | --- |
| | "... Excellent place for undergraduate education, and the liberal arts aspect is awesome ..." |
| | |
| --- | --- |
| | "... Scholastically, Marist has offered a high quality level of education ..." |
| | |
| --- | --- |
| | "... It's all very "by the book": a good standard education ..." |
| | |
| --- | --- |
| | "... I love the people there and I feel that I am getting a great education ..." |
| | |
| --- | --- |
| | "... Marist is a great institution that provides its students with an excellent education, resources, and opportunities in all aspects ..." |
| | |
| --- | --- |
| | "... If you want to do well and really grown through your education this school gives you every opportunity to do so ..." |
| | |
| --- | --- |
| | "... I value a high level of education and am certainly receiving it here at Marist ..." |
| | |
| --- | --- |
| | "... The Education Department is amazing and provides a lot of opportunities to get experience in an actual classroom ..." |
| | |
| --- | --- |
| | "... Strong educational experience in the business school, but poor location in Poughkeepsie ..." |
| | |
| --- | --- |
| | "... 5 average throughout my HS years(including many honors and AP's), I was sure Marist College would provide me with a challenging education well wor..." |
| | |
| --- | --- |
| | "... However, I feel that the high quality of the education that students of all majors receive is the most important ..." |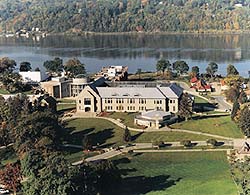 Ranking Similar Schools by Programs