Breakdown of "Surrounding City" at Marist
By Major
| | |
| --- | --- |
| Accounting | C |
| Art & Design Department | B |
| Biology | B |
| Business - Management and Administration | B+ |
| Chemistry | A |
| Communications | B |
| Computer Science | C |
| Criminal | B- |
| Design Arts - Industrial Design/Graphic Design/etc | A |
| Economics | B+ |
| Education | B+ |
| Electrical Engineering | C |
| English | C+ |
| Finance | B |
| Fine Arts - Painting/Sculpture/Photography/etc | C |
| History/Histories (art history/etc.) | B- |
| Journalism | C |
| Language - French/Spanish/etc. | B+ |
| Linguistics | F |
| Math | A- |
| Music Education | B- |
| Other | B |
| Political Science | B- |
| PreMed and Medical | B- |
| PreVet and Veterinary | A- |
| Psychology | B |
| School of Information | B+ |
| Social Work | B- |
| Undecided | C+ |
| Video/Media | B+ |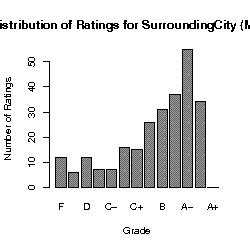 Against similar schools
Surrounding City compared with similar schools in class.
Surrounding City
"
I am a freshman at Marist. I absolutely love it! I would definitely recommend this college to any student looking to go to a well-rounded and balanced...
Read full comment
"
Marist College is a place for opportunity and growth. With only 1 semester completed at Marist, I am a better person and have learned so much about my...
Read full comment
"
I only spent one semester at Marist because I was so upset over a number of things about the college. That being said, for all the bad things I had t...
Read full comment
"
My comment is not meant to be negative nor positive. It is written non-biasly by a Marist student herself. At the end of reading this comment, it is m...
Read full comment