Breakdown of "Individual Value" at PIM
By Major
| | |
| --- | --- |
| Architecture | B- |
| Architecture & Urban Planning Department | D- |
| Art & Design Department | C |
| Business - Management and Administration | C |
| Communications | C+ |
| Criminal | C |
| Design Arts - Industrial Design/Graphic Design/etc | B- |
| Education | D- |
| Electrical Engineering | A+ |
| English | A |
| Fine Arts - Painting/Sculpture/Photography/etc | C- |
| History/Histories (art history/etc.) | C- |
| Industrial Design | D+ |
| Interior Design | B- |
| Other | C- |
| Video/Media | D+ |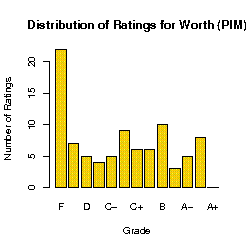 Against similar schools
Individual Value compared with similar schools in class.
Individual Value
"
... The overall environment will make you a more uninhibited creative individual, and often reminds you of the simple beauty inherent in ones ability ...
Read full comment
"
... The offices (bursar, registrar, addmissions ect) are staffed by jaded, rude and unorganized individuals so having to dropp/add classes, change...
Read full comment
"
... You are attempting to be an individual with your artist statement, along with 4,999 other individuals ...
Read full comment
"
... I think this program is set up to get as much money from unsuspecting individuals while lying through their teeth and providing substandard, che...
Read full comment
"
... If your window's glass can endure much unecessary pain, go to art school, if you want to spare yourself, do something that is more individual and...
Read full comment
"
... The office of the registrar, academic advisement, and the bursar are some of the worst individuals I have had to deal with when trying to solve ...
Read full comment