St Bonaventure University
Breakdown of "Collaboration/Competitive" at SBU
By Major
| | |
| --- | --- |
| Accounting | A- |
| Athletics/Training | A |
| Biology | A- |
| Business - Management and Administration | A |
| Education | A- |
| English | A+ |
| Finance | C- |
| History/Histories (art history/etc.) | A |
| Journalism | A- |
| Other | C- |
| Physics | B+ |
| Political Science | A |
| Psychology | A- |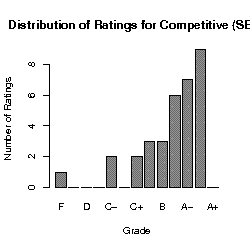 Against similar schools
Collaboration/Competitive compared with similar schools in class.
Collaboration/Competitive
"
i just got accepted and i am so excited to be coming here. the only thing i am worried about is doing things outside the collge. like going to the cit...
Read full comment
"
I remember reading these reviews a million times before I finally signed to be an out-of-state athlete @ SBU. I was so excited, but now that I'm actua...
Read full comment
"
Saint Bonaventure was without a doubt the best 4 years of my life. The campus is beautiful, falculty great and the friends you make are awsome. Some w...
Read full comment
"
I must say that attending Saint Bonaventure University was the absolute best decision I have ever made in my entire life. It is a very special place w...
Read full comment
"
I went to Bonaventure from undergrad through grad school and I wouldn't trade the experience I had there for anything. Talk to any alum and they'll te...
Read full comment
"
Bonaventure is not a bad school, It is what it is. College is what you make of it. The faculty and people are nice. The school is in bubble fuck of no...
Read full comment
"
St. Bonaventure isn't near any large city, unless you consider Buffalo, which is over an hour away. But, it never mattered to me. I love seeing people...
Read full comment