The School of Visual Arts
Breakdown of "Surrounding City" at SVA
By Major
| | |
| --- | --- |
| Art & Design Department | A+ |
| Design Arts - Industrial Design/Graphic Design/etc | A- |
| Fine Arts - Painting/Sculpture/Photography/etc | A |
| Other | A |
| Video/Media | A- |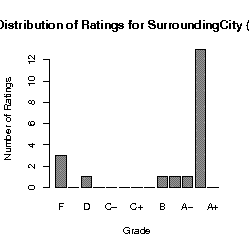 Against similar schools
Surrounding City compared with similar schools in class.
Surrounding City
"
... Back where I went to school everyone regardless of ethnicity got along fine and I was well-liked and popular ...
Read full comment
"
... NYC is your campus, which is super exciting if you're not from here already (which i am lol) So get ready for a 20 minute walk from the east side...
Read full comment
"
... Don't expect the usual College life as it is located in the middle of the city which does not enforce a sense of unity within the school ...
Read full comment
"
... That plus it being in the greatest city on earth make it the ONLY choice for a young artist wanting to get into film animation in my opinion ...
Read full comment
"
... I come from a distant place where design opportunities don't come very often, and I believe that some SVA students take forgranted the wonderful ...
Read full comment
"
... If you're looking for hand holding or a campus life, city schools generally won't give you that ...
Read full comment