Breakdown of "Collaboration/Competitive" at Siena
By Major
| | |
| --- | --- |
| Accounting | B+ |
| Biology | B+ |
| Business - Management and Administration | B- |
| Computer Science | B+ |
| Education | D- |
| English | B |
| History/Histories (art history/etc.) | B+ |
| Language - French/Spanish/etc. | A |
| Other | B+ |
| Perfomance Arts | C+ |
| Political Science | B |
| Psychology | B- |
| Sociology | B+ |
| Undecided | C+ |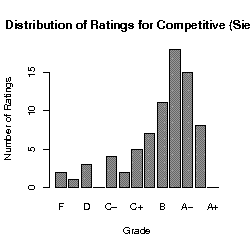 Against similar schools
Collaboration/Competitive compared with similar schools in class.
Collaboration/Competitive
"
Siena provides a great faculty and staff, and a great education as well. However, these are the only good things it provides.I have been at Siena for ...
Read full comment
"
I did not like this school at all. I am a freshman now and am transferring to another school for the spring semester. It started off with a bad housin...
Read full comment
"
As with just about any school, business, or other organization, there are many positives and negatives about Siena College. The key is to work out wet...
Read full comment
"
The Students: In my opinion, Siena is a very friendly place. The people who go here are generally friendly, the type who, even if you don't know...
Read full comment
"
Albany is a great nightlife city. Students are great. Teachers are helpful.
Read full comment
"
My biggest complaint about Siena is that it's growing beyond it's capacity. Parking is terrible and the housing office fights to keep up with new stu...
Read full comment
"
People that write negative reviews on Siena are being too knit-picky on flaws. I agree the administration has made some very unfair rules in the rece...
Read full comment
"
Although Siena tries to remain relatively secular in its advertising, so not as to turn away any students, the school itself promotes a campus atmosph...
Read full comment