Pensacola Christian College
Responses

Yeah, it looks nice now but after the millionth church service its your worst nightmare

A building meant to awe you into thinking that the school really knows what they are doing with their interpretation of the Bible and their academic failings such as non-accreditation

PCC epitomizes the definition of legalistic Christianity. Sin comes from within a man%u2019s heart, not from the circumstances in which he is placed. Living in a bubble creates useless, scared, uninformed, and ineffective Christians.
april 2003 (when the photo was taken)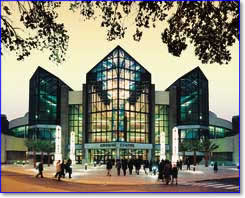 Student Description
Picture of the new state of the art Crowne Cente
Google Map of PCC Campus
Zoom way in & look around.