The Savannah College of Art and Design
Students who would return
Would not - 29/17
Student Surveys
(in Art & Design Department)

46
Males: 13, Females: 33
Average Yrs. Completed: 2.1
Art & Design Department Rating
| | |
| --- | --- |
| | 7.2, B |
| | 5.7, C+ |
| | 7.0, B |
| | 7.5, B+ |
| | 7.2, B |
| | 7.5, B+ |
| | 7.5, B+ |
| | |
| --- | --- |
| | 6.6, B |
| | 4.8, C |
| | 6.3, B- |
| | 7.5, B+ |
| | 7.0, B |
Education Quality Vs. Competing Schools
Student Expectations
| | |
| --- | --- |
| Expected coursework difficulty: | 3.8 High |
| Actual difficulty: | 3.8 High |
Students found the coursework to be easier than expected.
Educational Quality vs. Student Intellect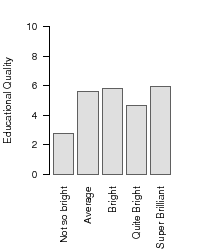 English Speaking
| | |
| --- | --- |
| Percent of teaching staff that does not speak satisfactory English | 0-10% |
Student Personalities
Faculty Personalities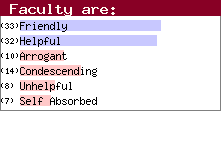 Art & Design Department:

"

I'm going to filter out as many of my negative experiences as I can in order to remain credible; but I do definitely have some issues with my experien...
"

SCAD was an excellent experience for me. The one thing that stood out the most was the level of the prof.'s knowledge in the area of expertise. Honest...
"

SCAD leaves a LOT to be desired. It is not a real art school; rather it is a business venture run and marketed (very cleverly and manipulatively) by...
"

It is extremely difficult to get larger scholarships than awarded in your first year. Most of the people working for scad, excluding professors, are ...
"

I remember looking at this website when I was doing research about SCAD and thinking - Oh my, is it that bad? No, it's not. While some people I know ...
"

The professors are essentially a grab bag. You will find some that are amazing at what they do, some that have never taught the subject before. This s...
"

Well, I have enjoyed most of my professors here ar SCAD. They are predominantly kind and accessible. The students are scene-y dipwads, but welcome to ...
"

Spent 4 great years at SCAD. Great facilities, helpful teachers (you get to pick them, some are known to challenge you, some not, choose wisely, after...
"

SCAD is a joke. I went there for 3 years. I had the worst time. I was on the Deans List pretty much ever quarter. I left SCAD because a guy I didn't k...
"

Where does my money go?!!?!?!?
"

SCAD-ATL is a good "general knowledge" school for artists, at about 4 times the price. The ONLY true good thing about this college are the professors ...
"

SCAD is everything I could ever ask for from a university education wise. The professors are here to help you learn and they set up extra help session...
"

I completely regret my decision to go to the "school". First off, the foundations, are terrible. It was pretty much just high school art classes. I...
"

I absolutely love SCAD. It has the best quality of education I've seen anywhere, as well as some of the best people. SCAD has a different atmosphere, ...
"

This has been my first quarter at SCAD and I like it here.I haven't run into anybody that hasn't liked it here. I love that you only have classes four...
"

SCAD provided the essentials i needed for my field. The confidence in showing my work and being able to take critiques and understanding on how to imp...
"

Savannah College of Art and Design is the biggest waste of money, time, and energy. After the school gets your money, they do not care what happens to...
"

SCAD-Atlanta was easy to get in but staying in is the problem. Coming in as a freshmen with no type of art background scared me. Fortunately my arroga...
"

Before reading, consider my situation: Japanese-American Painting Major from Iowa. Need not take any non-art-related courses because of AP classes and...
"

The school is very demanding but the professors are helpful. I am confident I will get a job with a good company when I graduate. I grew up in Balt...
"

Some thoughts about the SCAD Fashion Department from an insider as of 2010. There is no Chairperson - nobody wants the job. The Dean is new and in...
"

After attending for less than one semester, I have found SCAD to be an illegal money pit where professors make you feel like you are an idiot and don'...
"

SCAD is awesome. If you can't find something to do in the surrounding area, it's because you don't want to be here. If you are bored, you do your home...
"

I am a 38 year old, single mother and what is considered a non-traditional student. I gave up a very lucrative career to go back to school and after c...
"

SCAD was the best choice I have ever made. I am asked all the time if i could do it again, would i choose SCAD? YES I would do it all the same again...
"

Let me start by saying i have every reason to tell people not to go to SCAD. I recently went through a major medical emergency (bad enough to be in th...
"

I have never seen or heard of anything that these negative comments point out. I guess I saw the good side of SCAD. I thought SCAD was a great school ...
"

SCAD SPENDS MORE TIME, MONEY, AND ATTENTION BRINGING IN NEW STUDENTS THAN PRESERVING RELATIONS WHITH ATTAINED STUDENTS EXPECT TO BE A NUMBER AND AND ...
"

(I have plenty to say, so those who aren't sure whether or not SCAD is the right school, please at least skim through this one) SCAD likes to appea...
"

I choose SCAD because it is an university unlike any other and its variety of opportunity is unmatched. I wanted something different out of my college...
"

in response to the last review, there were students robbed at gun point in the dyson dorms, it happened in the spring quarter of 07', i still have all...
"

SCAD is a joke. Unfortunately I did not realize this until it was too late. I was graduated and owed loans over $100,000 in total. I've been a graduat...
"

I would like to reinstate that the prevalence of crime in this town is quite horrific. On the campus tour the guides certainly did not inform us as to...
"

I'm going to graduate here in a few months from the Sequential Art department, and I have to say that this has been the best experience in a college t...
"

This is a review for the Atlana SCAD (Savannah College of Art and Design). I'm an Illustration major. The Foundation courses were good, of course li...
"

In the two years I've been at SCAD, overall I feel a bit... meh. Granted, there were other factors that contributed to this feeling (mostly problems ...
"

SCAD doesn't prepare you for outside in the real world, especially not computer majors. It's full of hope and a "you can do it!" attitude until maybe ...
"

You get what you give. If you party all weekend and dont do your work, youre not going to like it at SCAD.
"

Doesn't worth the money. At all. First of all they lie everybody about the scholarship. First they say that you've received this much as an ANNUAL am...
"

I'm going to filter out as many of my negative experiences as I can in order to remain credible; but I do definitely have some issues with my experien...
"

This is a review for the Atlana SCAD (Savannah College of Art and Design). I'm an Illustration major. The Foundation courses were good, of course li...
"

I transferred to SCAD from MICA, one of those more elite, Northern, East-Coast art schools that some of these complainers think SCAD falls short of. S...
"

I'm a current online transfer student, completing a BA in Sequential Art. I had high expectations of SCAD but in general they have not been met. The f...
"

After attending what I thought was my "dream school" for less that a full year (two quarters) I left with an absolute distaste in my mouth. SCAD is no...
"

I went to SCAD for approximately 3 months, and I can honestly say that I 95% of the time I spent there. It was my 2nd to last choice school, so I admi...
"

Great school, great facilities, shitty city and location of campus.
"

The Film department at SCAD is a huge let down. Every student hear is a Quentin Tarantino/martin Scorcesse reject. There is no originality. All the...
"

I am hugely disappointed with my undergraduate experience. I graduated at the top of my class and cannot find a job. SCAD promises a 95% placement rat...
"

SCAD came highly recommended from a friend of my mother's and she pushed me to come here. Classes are, in general, okay. One of my classes was cancell...
"

I don't even know if it was worth it. Don't get me wrong, I learned a lot and experienced a lot; couldn't tell you if SCAD itself was corrupt or not b...
"

I found the years I spent at SCAD to be exactly what I made of them... Some of the best years of my life. I learned A LOT and had a lot of fun in a ci...
"

I am a junior, majoring in both Fibers and Historic Preservation. My experience at SCAD has been largely positive. The city and the surrounding coast ...
"

The college is a business. They treat you like a number and if it was a business it would be a poor business. It costs a lot to attend SCAD and the...
"

I graduated in SCAD in 2015. and have worked as Student Ambassador, Resident Assistant, and Summer Seminar Assistant for SCAD. I must say that SCAD ha...