How this student rated the school
Alumni Survey
Describes the student body as:
Describes the faculty as:

Lowest Rating

Highest Rating

Date: Jun 20 2005
Major:
Unknown
(
This Major's Salary over time
)
Background -Grinnell was totally different from where I grew up. I am from Chicago and went to a large public High School that was 100% African-American. I applied to Grinnell, two other schools in Iowa, a small school in Minnesota, a large public university in Illinios and a Historically Black College. Unfortunately for me money was a major factor.Endowment - My father the main breadwinner in the family was Diabetic and eventually lost his right leg, he was unable to work. So we were not sure college would be an option for me. When I attended Grinnell my first year Tuition room and board and fees were $12,000 my financial aid package covered $11,437.85 so I was able to pay the remainder and books with money from my summer job and graduation gifts(I returned them all to use the money for school). Because of the endowment, Grinnell was generous so I graduated $5000.00 in debt.Academics - I had great professors with high expecations who expected me to work hard and develop my mind. Academics were challenging and time management essential.Social - I had a peer group for the first time of academically talented people (although I did not check super brilliant because it seems conceited). I also had an environment designed to allow me to develop socially and learn responsibility. The best lessons for me came out of my failures both academic and social. Rules - The Student Life Philosophy is a combination of unintrusive supervision and self governance, you are not in an environment where you are policed like a two year old, so if you are not mature enough to respect the rules and make responsible decisions for yourself look at other insititutions with more rigid structure.Diversity - Grinnell was also my first taste of learning in a multi-racial and multi-national setting. My High-School was 100% African-American and at Grinnell I had classmates from all over the U.S. and from many countries including but not limited to Germany, New Zeland, South Africa, Kenya, Ethopia and Ireland. I loved learning outside my comfort zone it is more challenging and changed my perspective; if you don't like to be with people who think differently have different faiths etc. there are other schools who have more homogenious populations.Rural Setting- A small town is not for everyone. I loved small town life because of the safety and the availability of activities and resources.Safety - When I attended Grinnell there was one crime I remember hearing about. We never locked our doors, the dean of students would send out notes encouraging students to lock doors on weekends when there were visitors. If you lost something people left it alone. I remember forgeting my bookbag and remembering it the next day and going to where I left it and it was all there books, wallet and money. Activities - Your student fee pays for everything. I was on a budget and could not afford to spend a lot of money to have fun. The college brought scholars, plays, musical events to campus. I saw Gwendolyn Brooks, Ron Takaki,the Alvin Ailey Dance Troupe, CoCo Taylor, Chicorea and many others. You don't need a car to get around campus or into Grinnell.Reputation - Grinnell has an excellent reputation. It is well known in graduate institutions. I got straight A's in my program after working for seven years. My experience at Grinnell more than prepared me for Grad school. The three Liberal Arts Colleges with a long standing national reputation Grinnell, Carelton and Oberlin. Please think beyond those ranking systems. I have a hard time using ranking systems for choosing a place I will spend at least four years. For tennis shoes fine, but a college?! Parting Thought - I hope I have given you plenty to think about. Good luck and I hope that you find an institution that fits you perfectly.P.S. About 40% of Grinnellians marry other Grinnellians.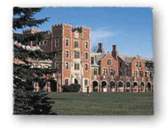 Rankings Grinnell appears in
Similar Colleges by BUDGET