How this student rated the school
Educational Quality
B
Faculty Accessibility
A+
Useful Schoolwork
C
Excess Competition
B
Academic Success
C+
Creativity/ Innovation
B-
Individual Value
C
University Resource Use
C+
Campus Aesthetics/ Beauty
A
Friendliness
B+
Campus Maintenance
B
Social Life
A
Surrounding City
C
Extra Curriculars
A
Safety
C+
Describes the student body as:
Friendly, Arrogant, ApproachableDescribes the faculty as:
Friendly, Helpful, Arrogant, Self Absorbed
id='quarter' class='snapshot' style='color: #009704; line-height:80px';float:left;
Lowest Rating
Useful Schoolwork
C
Highest Rating
Faculty Accessibility
A+
He cares more about Useful Schoolwork than the average student.
Date: Jul 18 2012
Major:
Business - Management and Administration
(
This Major's Salary over time
)
I am heading into my senior year at Augustana College this upcoming Fall and could not imagine having this great of a 4-year, college experience anywhere else in the world. I am in a fraternity, have participated in athletics all 3 years, and will be completing my majors of Business management, marketing, and communications in the Spring. The negative posts, and in particular the most recent one posted on June 7th really kill me and could not be any more false of a representation of the reality of Augustana or the way students think of Augustana. Augie is a school you cannot go anywhere (outside of Augustana) without hearing great, positive remarks. I can't go a single day at my internship when asked where I go to school without hearing,
Oh, I know x person that goes there… they love it!
The school is an undeniably great resource for meeting people and networking yourself or a product of yours for after you graduate. You hear this line pitched to you all your years at Augie, and the fact of the matter is as you grow each year you find this to be more and more true, as I have this Summer. Augustana is looked highly upon by people and employers within the Chicagoland area-simple as that. Onto life at Augustana… The enrollment at Augustana is 2,500 people. It is easy to feel things are "cliquey" or "not diverse" when you know 3/4ths of your fellow peers. You're not going to get the diversity of a U of I (who should be ashamed of themselves for giving unproportionally unfair amounts to immagrants regardless of ACT scores and extra curriculars). So when you accept you're invitation to attend Augustana you should not be taken back by this vibe. If you are, your just dumb… there are under 3,000 people! That being said, the rumor that Augustana is extremely cliquey and undiverse is not nearly as bad as it is made out to be. I personally enjoy walking into a party where I know 30-40% of the people there opposed to walking into a party at U of I or Iowa where I know maybe 2 or 3 people out of 100. You meet new people everywhere you go, as a freshman especially! And really, how much diversity are you going to get? You've got your gays, minorities, international students, plenty of diversity for 2,500 people. It is human instinct to hang out with people similar to you, and that is where the clique stereotype comes from. Meeting a diverse group of people and developing a diverse group of friends is entirely up to you. People are approachable, friendly, and there is plenty of diversity to go around if you seek it out—saying there is no diversity coming from a guy who joined a frat does not mean much.As far as greek life and athletics are concerned… Yes, greek life is huge at Augie. However, a lot of these misinformed people on here state "almost everyone" is in a fraternity or a sorority-WRONG! The percantage of people who join greek life is roughly 45% (greek) to 55% (non-greek). Although this is a huge percentage of greeks in comparison to a lot of schools, we are still the minority! There are more people not greek than ones that are! Rise up and create some of your own groups if you are not greek and feel as if the greeks run the school/social aspect of life at Augie-There are more of you after all. And I do not mean to come off as greek vs. non greek. Thats actually one of the stereotypes I hate most about Augustana. Some of my best friends at Augie are independent or not apphiliated to the greek system and I know a lot of the kids in my frat are the sam way. If anything, there is a lot of greek vs. greek stuff going on… as there is at any other school where greek life is big. Athletics are also awesome at Augie. It would help if the football team didn't suck so much right now because people really do like to support the school and have Augie spirit (football traditionally being the team for the student body to back most) In fact, Augie has craved for a team to show their spirit for like this and back as a student body that we have turned to our basketball team. A lot of people dont like the individuals on the basketball team - BUT WHO CARES! They are great, they play for Augie, and are currently the most successful sport at Augustana aside from the track and field team. However, basketball is a much more celebrated sport, and the students of Augie know that and all come together in the Carver Gym to get rowdy for an Augie win whenever they step on home court. Academically, Augustana might not be extremely challenging, but it is no walk in the park. Most classes take a lot of your time and I would say most of them are engaging as well. It is such BS to hear people say they are looking to get engaged but just can't seem to find a way here at Augustana because it is not challenging enough. You get what you put it at Augustana. If you want to get yourself engaged and fully reep the benefits of Academics here you most definitely can and will be more than satisfied. Going along with that, almost every teacher is extremely helpful but only if you seek them out. Stay after class a couple days and get a little extra info from them or shoot them an email here and there. They like to build more than the typical student to teacher relationship-they build personal relationships. The parties are awesome, and yes it does help if you join a greek group simply because you will be invited to more things. Rock Island itself isnt the greatest. You will have the rare decent concert come through at the I-wireless but there are things to do. Davenport has plenty of great places to eat and is just across the river. Its also fun to go to mallards games and other different events the I-wireless puts on. Once you hit 21, or have a decent fake because its easy to get in, the district is a great time. The bars there are made fun because of the people. They serve as a commonplace for people to come together and party who usually dont because they are part of different groups or teams. The only thing true about the dumbass below me post is the statement about food. The cafeteria isnt that great, and they rip you off a little bit with the point system. Oh well, Augie is the shit.You're going to have the immature 10% of people anywhere you go who want to be different and want to rip on schools they go to or groups they were forced into but is that really that cool? They think it is but its only a way to make you hate yourself even more than you should (guy below me) and a way to make your time where you are less enjoyable than it should be. This is bigger than college, LIFE IS AWESOME—Dont let college, or on a bigger scale life, go by while you sit around and pout about where you are. Enjoy it all and make the most of it. If you make the most of your experience at Augustana you will leave absolutely thrilled with you're decision in going there.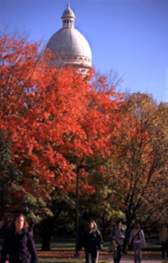 Similar Colleges by BUDGET