How this student rated the school
Alumni Survey
Describes the student body as:
Describes the faculty as:

Lowest Rating

Highest Rating

Date: Nov 14 2017
Major:
English
(
This Major's Salary over time
)
This school has done nothing for me career wise and is the biggest regret I've made in my life regarding colleges. I was a bright kid, was in the Top 30 of my high school graduating class, and every college wanted me. WHY DID I CHOOSE UA? The majority of professors thought they were know it alls and they tested to fail. Only the people who were high or hung over passed those nonsensical exams. I had issues with 2 of the professors (one tried to cover up their dislike for me by failing my research papers and the other was blatant with it and told me I was going to fail during my first week of starting her class). I didn't get job placement after Undergrad either. The only 'job placement' UA gave me was a link to a website that's similar to CareerBuilder and basically was like "Have at it". Now, I'm $50,000+ in college loans and that's including the stupid Graduate certificate I went back to get in 2014. How stupid was I? The certificate is useless and when I went to apply for the job of my dreams I was rejected left and right by employers because my certificate wasn't valid (lacked credit hours). My advisor said that the certificate would meet all needs for any job field I was looking into (I wanted to teach abroad). What a slap to the face! I contacted a program in Canada to see if I could make up credits there and they told me I had to start over again. UA has brought me nothing but struggles and now I'm currently stuck working at McDonald's part time until I can get my Master's at ANOTHER school. I still live at home and I have nothing to contribute to bills to help my mom out. Plus, I barely make enough to make payments on a loan that proceeded with it's payments. If there was a go back to high school graduation button I'd hit it in a heartbeat, knowing what I know now. UA may look all great during the tour, but don't let that fool you. You don't want to end up like me, having to start over when you're almost 30 years old. Feel free to contact me if you want to hear my situation in detail. This box won't be able to fit it all.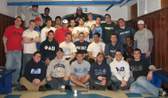 Similar Colleges by BUDGET