St John's University New York
How this student rated the school
Alumni Survey
Describes the student body as:
Describes the faculty as:

Lowest Rating

Highest Rating

Date: Jul 19 2010
Major:
Biology
(
This Major's Salary over time
)
The first thing is that this school was incredibly easy to get into. The fact that the core curriculum takes up so much time is both a positive and a negative. Taking English, a social science and 3 courses in philosophy is essential to making an all round student. However, catholic university or no catholic university, 3 semesters of theology and a useless course called Discover New York is completely uncalled for. Theology courses are used by all students to "boost" their GPA and unless you are a christian this really will not do anything but waste your times especially if you are a science major. This brings me to my particular department. The major curriculum for my major was horrible; the courses were unbelievably limited and as a Biology major I expected a challenge but all I got were a handful of biology credits and twice that amount in liberal arts courses that were completely useless to me in the long run. My fiancee also went to SJU and her view is similarly unfavorable. She was a non-science major and I noticed that non-science majors had to take a science course to fulfill their math/science requirement. When I saw what they were, it was mortifying. I know other schools within the same tier as SJU whose non-science major students had to not only take a science course but a science course with a lab component which is critical to making a layman understand the scientific method. St John's does not have this.Finally the administration. Wow, never have I before met such an unhelpful group of people. Not to mention the attitude that they all come with. And I still can't figure out why you would have 12 counters to help students yet every time you come for help there would be no more than 3 representatives waiting to help you DESPITE a long line snaking all they way out the door! And any SJU student can tell you the utter frustration that comes with reaching the counter and realizing 6/10 times that the representatives cannot answer your question and so scatters you all over the campus….As for social life, I could care less. I am not drinker or a "party person". All I care about is my work and my studies and unfortunately St. John's University did not satisfy any of my thirst for knowledge.My advice to aspiring undergrads with big ambitions: Make sure and fully scout all the universities in New York before making your decision.
Responses

Credible review, but many private colleges or catholic ones may require a few courses, its of course not really a science school except major in pharmacy.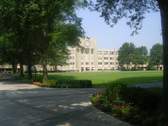 Rankings SJUNY appears in
Similar Colleges by BUDGET