12 Alums took the salary survey
Longwood Alumni Salary over Time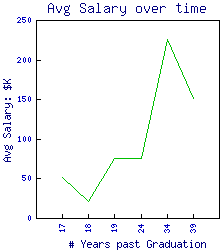 Said that Longwood contributed
| | |
| --- | --- |
| 33.33% | 75-100% to their career success |
| 25.00% | 50-75% to their career success |
| 16.67% | 25-50% to their career success |
| 25.00% | 0-25% to their career success |
Had the employment status
| | |
| --- | --- |
| 8.33% | Self Employed |
| 16.67% | Top Management |
| 33.33% | White Collar workers |
| 8.33% | Pink Collar workers |
| 0.00% | Blue Collar workers |
| 0.00% | Entry Level employees |
| 33.33% | Unemployed. |
Life Satisfaction
| | |
| --- | --- |
| 75.00% | Are satisfied with their current job. |
| 83.33% | Said things are generally going well. |
| 66.67% | Are still in the field they majored in in college. |
Reputation & Preparedness
| | |
| --- | --- |
| Help from Reputation | 4.2 |
| Preparedness for Real world | 6 |
Most Frequently mentioned Graduate Jobs

Director (5), Manager (3), Finance (3), Security (2), Officer (2),
% went on to Graduate or Professional Ed.
36.4%
"
... The students here are generally the same ones who spent their high school careers partying and getting decent grades ...
Read full comment
"
... Longwood Helped prepare me in every way imaginable to be successful in a job not only in my major, but in any career I chose ...
Read full comment
"
... By the time you graduate you should have several exhibitions to put on your resume and there's the opportunity to work at the Longwood Center for...
Read full comment
"
... With the approximately 85% Greek Life majority, it is easy to feel excluded if one is trying to persue an academic career instead of striving to...
Read full comment
"
... The career center found me a job after I had searched on my own with limited success ...
Read full comment