Lawrence Technological University
11 Alums took the salary survey
LTU Alumni Salary over Time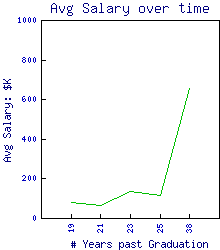 Said that LTU contributed
| | |
| --- | --- |
| 9.09% | 75-100% to their career success |
| 36.36% | 50-75% to their career success |
| 27.27% | 25-50% to their career success |
| 27.27% | 0-25% to their career success |
Had the employment status
| | |
| --- | --- |
| 0.00% | Self Employed |
| 9.09% | Top Management |
| 72.73% | White Collar workers |
| 9.09% | Pink Collar workers |
| 0.00% | Blue Collar workers |
| 0.00% | Entry Level employees |
| 9.09% | Unemployed. |
Life Satisfaction
| | |
| --- | --- |
| 72.73% | Are satisfied with their current job. |
| 90.91% | Said things are generally going well. |
| 81.82% | Are still in the field they majored in in college. |
Reputation & Preparedness
| | |
| --- | --- |
| Help from Reputation | 4.4 |
| Preparedness for Real world | 4.9 |
Most Frequently mentioned Graduate Jobs

Engineer (5), Manager (4), Product (2), Sr (1), Computer (1),
% went on to Graduate or Professional Ed.
42.9%
"
... The school may not have a great reputation for social interaction outside of the classroom, however it can provide a graduate with useful hands ...
Read full comment
"
... The Career Services department is about as helpful as a Google search, perhaps less so--you'll get no help finding an internship, just the same o...
Read full comment
"
... Your career is what you make of it; a diploma is merely proof positive you can see things through ...
Read full comment
"
... Also, the career servies department at LTU is excellent, and does everything it can to ensure that you are employed in your field of study after...
Read full comment