Northern Michigan University
5 Alums took the salary survey
NMU Alumni Salary over Time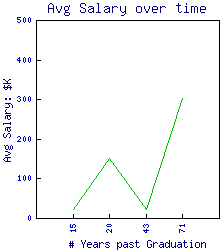 Said that NMU contributed
| | |
| --- | --- |
| 40.00% | 75-100% to their career success |
| 0.00% | 50-75% to their career success |
| 40.00% | 25-50% to their career success |
| 20.00% | 0-25% to their career success |
Had the employment status
| | |
| --- | --- |
| 20.00% | Self Employed |
| 20.00% | Top Management |
| 0.00% | White Collar workers |
| 0.00% | Pink Collar workers |
| 0.00% | Blue Collar workers |
| 20.00% | Entry Level employees |
| 40.00% | Unemployed. |
Life Satisfaction
| | |
| --- | --- |
| 20.00% | Are satisfied with their current job. |
| 80.00% | Said things are generally going well. |
| 40.00% | Are still in the field they majored in in college. |
Reputation & Preparedness
| | |
| --- | --- |
| Help from Reputation | 4.2 |
| Preparedness for Real world | 5 |
Most Frequently mentioned Graduate Jobs

Rn (2), Associate (2), Practice (1), Private (1), Co (1),
% went on to Graduate or Professional Ed.
20%
"
... Northern also has a writing center and other places that can help you succeed in your academic career ...
Read full comment
"
... The only firms that come to the career fair are a couple of local firms, which makes getting a job after college very challenging ...
Read full comment
"
... If your planning on attending nursing school you will be able to find a job, otherwise get in line and collect unemployment with your useless bac...
Read full comment
"
... I am now making a six figure salary working in outdoor recreation ...
Read full comment