12 Alums took the salary survey
Roanoke Alumni Salary over Time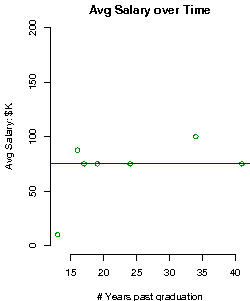 Said that Roanoke contributed
| | |
| --- | --- |
| 75.00% | 75-100% to their career success |
| 0.00% | 50-75% to their career success |
| 8.33% | 25-50% to their career success |
| 16.67% | 0-25% to their career success |
Had the employment status
| | |
| --- | --- |
| 0.00% | Self Employed |
| 0.00% | Top Management |
| 91.67% | White Collar workers |
| 0.00% | Pink Collar workers |
| 0.00% | Blue Collar workers |
| 0.00% | Entry Level employees |
| 8.33% | Unemployed. |
Life Satisfaction
| | |
| --- | --- |
| 91.67% | Are satisfied with their current job. |
| 100.00% | Said things are generally going well. |
| 50.00% | Are still in the field they majored in in college. |
Reputation & Preparedness
| | |
| --- | --- |
| Help from Reputation | 7.5 |
| Preparedness for Real world | 8.7 |
Most Frequently mentioned Graduate Jobs

Manager (2), Sales (2), Gardens (1), Publications (1), Cottages (1),
% went on to Graduate or Professional Ed.
25%
"
... I've had a teacher tell the class to email him what our life goals are, our ideal career, and what we do for fun just so that he can know exactly...
Read full comment
"
... I happen to be very fond of the my major's department and the opportunities Roanoke has made available to me, such as a semester abroad in Englan...
Read full comment
"
... I can't say that Roanoke College academic contributed to my success in the real world ...
Read full comment
"
... The Office of Academic Services and Career Services offer a variety of programs that will provide you the means to excel ...
Read full comment
"
... At Roanoke I got the education and advice I needed to develop a career ...
Read full comment