14 Alums took the salary survey
SBC Alumni Salary over Time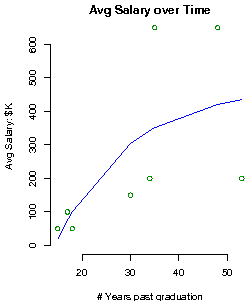 Said that SBC contributed
| | |
| --- | --- |
| 57.14% | 75-100% to their career success |
| 14.29% | 50-75% to their career success |
| 14.29% | 25-50% to their career success |
| 14.29% | 0-25% to their career success |
Had the employment status
| | |
| --- | --- |
| 21.43% | Self Employed |
| 21.43% | Top Management |
| 28.57% | White Collar workers |
| 14.29% | Pink Collar workers |
| 0.00% | Blue Collar workers |
| 0.00% | Entry Level employees |
| 7.14% | Unemployed. |
Life Satisfaction
| | |
| --- | --- |
| 100.00% | Are satisfied with their current job. |
| 100.00% | Said things are generally going well. |
| 78.57% | Are still in the field they majored in in college. |
Reputation & Preparedness
| | |
| --- | --- |
| Help from Reputation | 7.9 |
| Preparedness for Real world | 8.8 |
Most Frequently mentioned Graduate Jobs

Engineer (4), Ceo (3), Hr (3), Professonal (3), Editor (3),
% went on to Graduate or Professional Ed.
85.7%
"
... Hired almost straight out of school, poached a few months later by a Fortune 500 co where I'm still employed, promoted 8 times in 6 yrs due direc...
Read full comment
"
... If you want to grow your leadership skills and have confidence in the real world or preparation for ivy lead graduate schools, come to Sweet Bria...
Read full comment
"
... However, if you want a dynamic education that genuinely prepares you for a real world job, consider yourself home ...
Read full comment
"
... My level of confidence increased exponentially over the 4 years at SBC and has remained on an upscale level throughout my career ...
Read full comment
"
... My college has a wonderful Career Services program that aids you in any way to help to find you employment before and after graduation ...
Read full comment