The University of Alaska - Fairbanks
4 Alums took the salary survey
UAF/UAlaska-Fairbanks Alumni Salary over Time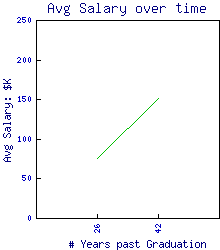 Said that UAF/UAlaska-Fairbanks contributed
| | |
| --- | --- |
| 25.00% | 75-100% to their career success |
| 50.00% | 50-75% to their career success |
| 0.00% | 25-50% to their career success |
| 25.00% | 0-25% to their career success |
Had the employment status
| | |
| --- | --- |
| 25.00% | Self Employed |
| 0.00% | Top Management |
| 0.00% | White Collar workers |
| 0.00% | Pink Collar workers |
| 0.00% | Blue Collar workers |
| 0.00% | Entry Level employees |
| 75.00% | Unemployed. |
Life Satisfaction
| | |
| --- | --- |
| 50.00% | Are satisfied with their current job. |
| 100.00% | Said things are generally going well. |
| 25.00% | Are still in the field they majored in in college. |
Reputation & Preparedness
| | |
| --- | --- |
| Help from Reputation | 2.8 |
| Preparedness for Real world | 7.8 |
Most Frequently mentioned Graduate Jobs

Educator (2), Programmer (2), Analyst (2), Research (2), Fellow (1),
% went on to Graduate or Professional Ed.
75%
"
... If you grew up in Alaska, it would probably be good to go to college elsewhere in order to experience the real world ...
Read full comment
"
... On the flip side, advisors are not as knowledgeable about things like career paths, alternative studies, and requirements for degrees or graduate...
Read full comment
"
... The academics are laughable; I can't imagine anyone, not even an Alaskan born native, thinking that they will get meaningful career skills in...
Read full comment
Recently Reviewed Colleges!