Pensacola Christian College
Students who would return
Would not - 22/25
Student Surveys
(in Accounting)

47
Males: 28, Females: 19
Average Yrs. Completed: 3.0
Accounting Rating
| | |
| --- | --- |
| | 7.9, B+ |
| | 4.8, C |
| | 7.2, B |
| | 6.3, B- |
| | 6.9, B |
| | 7.5, B+ |
| | 8.2, A- |
| | |
| --- | --- |
| | 5.6, C+ |
| | 8.6, A- |
| | 6.1, B- |
| | 9.1, A |
| | 8.6, A- |
Education Quality Vs. Competing Schools
Student Expectations
| | |
| --- | --- |
| Expected coursework difficulty: | 3.7 High |
| Actual difficulty: | 3.5 Medium |
Students found the coursework to be easier than expected.
Educational Quality vs. Student Intellect
English Speaking
| | |
| --- | --- |
| Percent of teaching staff that does not speak satisfactory English | 0-10% |
Student Personalities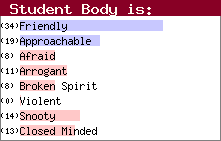 Faculty Personalities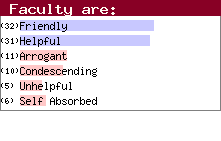 Accounting:

"

Stay Away from these fuckers!!!! They are so fucking ridiculous and bitches!!!! They think that they can run your life into God's plan? Well, here is ...
"

I love PCC so much. The people here are complaining about the rules but the rules are there to help and I appreciate them. I don't think it's at all...
"

When I first started looking for Colleges, I never imagined that I would end up at Pensacola Christian College (PCC). I never imagined all the experie...
"

I am fed up with this school. There are so many people who have been hurt by this school. The student body needs to sand up and say that enough is eno...
"

The Lord clearly lead me to Pensacola Christian College. He used the atmosphere of faculty and friends to mold me and develope me in those 4 very im...
"

The college allowed me to project myself as a more mature professional which has allowed me to leap frog several other new hires who started with me, ...
"

College taught be to put forth my best work on the job. Also it taught responsibility, character building, how to relate to others.
"

Horrible school. Don't waste the little money it costs to attend. Would be better spend buying lottery tickets considering PCC is unaccredited.
"

While some things may not be that great about the college, I will never regret my four years. You have to know going into it that the main goal there...
"

PCC is okay for those who are majoring in a Pastoral ministry of some sort but for those who are majoring in fields that need accreditation, you are i...
"

I loved attending Pensacola Christian College. I have no regrets graduating from this school. Yes, this school does have rules. I have found that l...
"

PCC is a small, independent Christian College located in the city of Pensacola. As a Christian college, the standards for students, faculty and staff...
"

God used PCC to change my life. I found my wife at PCC. I had countless opportunities to grow spiritually and socially. I made life-time friends. ...
"

If an individual is truly looking for a college to prepare himself for the business world and to strengthen his personal walk with God, PCC is a good ...
"

Clean, safe, and a good education (despite not being accredited). However, be ready for incredibly strict rules governing almost every aspect of your...
"

Although there are alot of critics on this website, most of them did not attend the school for four years. Most students who completed their program ...
"

The things I learned at PCC (both academic and Scriptural)prepared me to do well in the business world both in Washington, D.C. and in Canada. Several...
"

I was a transfer from a junior college and enrolled in PCC's accounting program after visiting the campus and feeling impressed with the college's fac...
"

I was extremely happy with my stay at Pensacola Christian College. Would I return. I would love to. It prepared me very well with a solid foundati...
"

Unfortunately this school is not accreditated - which is significant if you plan on attending graduate school. Campus life is extremely regimented an...
"

I think that PCC gave me an excellent education. The rules were tough, but hey, life's tough. It was only for 4 years. If you can't cut it then get...
"

PCC is a private college based primarily on beliefs of Independent Baptist Churches. If this is your background or direction you wish to take, you wi...
"

Not only did Pensacola prepare me for the working world it also helped me to grow spiritually. When I was at Pensacola, all of our accounting was...
"

Pensacola, like any other school, has positives and negatives. I know that the knowledge I gained from my studies there has helped me to be successfu...
"

This is a neutral review of PCC because the school has both good and bad qualities. I went to PCC as a freshman not knowing ANY of the rules. I neglec...
"

The biggest problem with being an Accounting major at PCC is the lack of accreditation. If your goal is to become a CPA do not go to PCC. There are ...
"

PCC set forth an excellent foundation for my career in business. The professors were knowledgable and provided excellent real world scenarios in clas...
"

PCC was an ok scholl acemdemically, but the social life was horible...I repeat horrible. Way too many ridiculous rules. The atmosphere was very "cul...
"

I went to Pensacola because of the affordability. I knew about the rules and did pretty much what I was told. The reason for the negative comment is...
"

First of all, it is very amusing to me that PCC would actually send an email requesting alumni to post their thoughts on this board when I know for a ...
"

I attended PCC for 4 years and have seen many things most students will never see. They have a dark side like if you are accused of something you are...
"

PCC instilled a high level of ethics and standards in my work. You do not have wasted years at this school. Either you complete the work or go home....
"

Hypocritical, a pure sense of a concentration camp, close-minded, and just flat out sucks to be there.
"

PCC gave me a good understanding of the accounting field and helped to lay down the principles necessary for my success in the business world. More im...
"

While I do not regret attending PCC, please make sure you completely understand the accredidation issue before applying. This is especially important...
"

PCC was a great school. I often look back and wish that I could go all over again, only this time pay a little more attention to my studies. I f...
"

You will not find any better of a bargain for post-secondary education that PCC. You get a great education for a great price. My education has allowed...
"

If you are considering PCC as a college, you are most likely a Christian young person desiring God's will for your life. And while it is true that PC...
"

Four years at PCC were different than they would have been elsewhere. It was hard - academically, socially, and spiritually - but after it was over, ...
"

nothing is good, everything is bad. anything people should know before they attend? dont attend. i got kicked out for something everyone else do a...
"

Excellent faculty who cares about the students and wants them to succeed.
"

I don't think there will ever be a place that is "perfect" in anyone's eyes. There will always be things you disagree with and have a hard time with, ...
"

The business program did little more than teach you book knowledge - not much from practical, real-life business settings. The importance of interview...
"

PCC was an excellent school and I'm glad I went there. It gave me a strong foundation in my field of study (accounting). I loved the atmosphere ther...
"

Pensacola held no surprises for me. I got what I expected -- a quality education, a good learning environment, solid instruction, current equipment (p...
"

I would highly recommend this college to prospective students interested in attending a truly Christian institution where the quality of education and...
"

The primary thing to understand about PCC is that the entire organization is controlled by Mrs. Beka Horton. While the usual school "bureaucracy" c...
"

I love my life and when I picture what my life would have been if I had gone anywhere else, it's not a pretty picture, honestly. I have a nice home, ...
"

PCC is overall a great college that seeks to protect and prepare one for the business world as well as providing good social atmosphere. The college...
"

I loved attending PCC. It does have stringent standards that have helped me in my life to be a more disciplined person. PCC is not for everyone, but...
"

PCC is a very interesting place to go to school. If you are close-minded and legalistic this place will be great for you. If you aren't you can surv...
"

I hear a lot of people say they regret their time at PCC but I don't. I didn't love every minute of my time there but overall, it was a fabulous expe...
"

Just an aweful experience. Terrible. Life changingly bad.
"

If you want to go into the business world after graduation, PCC is not the school for you. The teachers they have been hiring are straight out of col...
"

This college is not a good place and should be burned to the ground
"

I would not recommend anyone attend PCC. They use the KJV issue as their gospel and have caused great division amongst good Christian colleges. They a...
"

I went to Pensacola Christian for two full years. Having come from a Christian background, I expected all of the rules and the strict atmosphere of t...
"

PCC was a great college! I'm sure a few of the 5000+ didnt always enjoy every minute, but I'm sure its like that at any college. PCC was fun, challeng...
"

PCC prepared me for life, in general. Teaching respect for authority and self-discipline. I was taught to be punctual and responsible.
"

PCC's goal is to enable students to "pillow their heads at night with a clear conscience"; because of this, there are several rules. Had I not gone t...
"

Horrible School, like the Hitler Youth program in germany.
"

I graduated from PCC and found it to be very rewarding. Anyone who does not go in with a good attitude and without carefully reading all the rules wo...
"

The number of negative reviews should tell you the story. However, there are a few things (very few) that are good about the school. Mr. Birney and ...
"

The administration and most of the students at PCC are nuts
"

You know, there are always pros and cons to almost everything, and PCC is no exception. The teachers are pretty good but out of touch with the real w...
"

PCC is not the place to go, not because og the rules there fine and you can get through them fine. The problem is there is no trust there and they hi...
"

Academics have been quite good. I've liked all my teachers. They really do offer a high-quality education, not only in accounting, but also in about...
"

Pensacola Christian is a very affordable college with a great student body. Going there for four years and getting a degree in Accounting has really ...
"

I have hired employees from many schools and have found that the actual school one goes to matters little once they are out in the workforce. It matt...
"

PCC IS STRICT ON THE RULES BUT GIVES A EXCELLENT EDUCATION.
"

Now that I am in my field, my college helped my reputation and my professionalism.
"

PCC is not accredited. This hurts getting into graduate programs and all but prevents certifications. The education is not bad, the cost is very goo...
"

I was pressured by my pastor, friends and parents to attend PCC. I had KJV only rammed down my throat every Sunday and Wednesday night. I fortunately ...
"

College gave me direct, effective training in the Accounting field. Every job I've had has entailed a lot of training, so it bears mentioning that col...
"

If you can't take the rules, this is not the school for you. Working within the rules and having a good time is a choice though. The education is th...
"

I recommend PCC highly for their academic program as well as for the environment they have established for students. I have been incredibly successfu...
"

This college is not accredited. Acceptance to graduate programs will be difficult. Licensure as a CPA will be nearly impossible in most states.
"

Looking back, my years at PCC were good. All (or most) college students are in a hurry to graduate and "start their life" and I was no exception. Ho...